THE Penang Island City Council (MBPP) and the Butterworth Life Saving Society are jointly holding free swimming lessons for children from B40 families.
MBPP councillor Gerald Mak said the programme is open to children aged seven to 12.
"Children who registered for the swimming lessons must complete all six sessions to be awarded a certificate of participation.
"The swimming lessons will be held on Saturdays and Sundays at the council's Relau Sports Complex. There are two sessions – 4pm to 5.30pm (first session) and 5.30pm to 7pm (second session). We limit 32 participants per session," Mak told a press conference at Komtar today.
He said that the swimming programme in March would begin on March 16, followed by March 17, 23, 24, 30 and 31.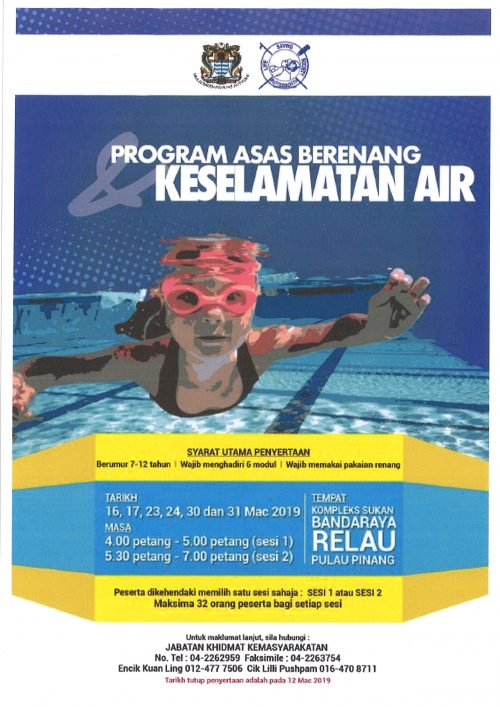 "Registration for the March programme is closed; and we are now accepting application for the May swimming programme," he said.
Mak said that free basic swimming programme was aimed at reducing the number of drowning cases involving children.
"We want to equip the children with water safety knowledge and to reduce the number of drowning cases involving children in Penang.
"We target the B40 families because basic swimming lessons can be costly," he said.
MBPP's Community Services Department director Rashidah Jalaludin said the closing date for the May is on April 30, or when the 32-registration per session mark is reached.
"Tentatively, the swimming programme in May will start on May 11, followed by May 12, 18, 19, 25 and 26.
"The dates are subject to changes," she said.
Rashidah said interested participants must fill in the registration forms to take part in the programme.
"Children must wear proper swimming attire to join the lessons. They must also be in good health and accompanied by their parents or legal guardians," she said.
Also present was Butterworth Life Saving Society representative Tan Kuan Ling.
For more details and registration, call the Community Services Department at 04-2262959 or Lilli Pushpam at 016-470 8711.
Story by Christopher Tan
Pix by Darwina Mohd Daud