PENANG is studying the feasibility of food waste being converted to renewable energy through its first biogas pilot plant.
Located at the solid waste transfer station in Batu Maung, the plant can handle up to 400kg of food waste per day. However, the amount is far less than the estimated food waste of 150 tonnes per day produced by consumers, each on the Penang island and the mainland.
State Local Government, Housing, Town and Country Planning Committee chairman Jagdeep Singh Deo said the Penang Island City Council (MBPP) collects an average of 600 to 700 tonnes of waste (of all kinds) per day.
"The food waste, around 150 tonnes, can be converted to energy. We want to take the burden off the council.
"The council will have less waste to process and transfer to the landfills," Jagdeep said in his speech.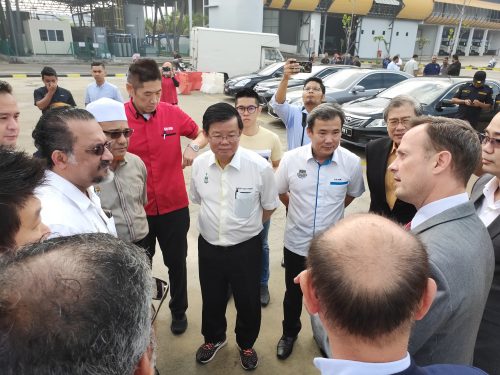 He said that the plant was not the final product for the entire project.
"This is like a 'feasibility study' to see if the project will be successful, and for us to troubleshoot if there is any necessity for that.
"We are the first state in Malaysia to adopt the technology from the Danish company.
"The company that we managed to collaborate has the biggest plant of this nature in the world," Jagdeep said.
Darco Industrial Water Sdn Bhd together with the Danish company, Q2 Engineering Sdn Bhd, collaborated with MBPP to conduct the feasibility study on turning food waste to energy.
Chief Minister Chow Kon Yeow said the plant has added an additional element in the integrated waste management facility in Batu Maung.
"We welcome solution providers to Penang to enhance our solid waste management facility," Chow said in his speech before launching the food waste-to-energy biogas pilot plant at the solid waste transfer station in Batu Maung today.
Chow said the solution provided by the Danish company could reduce the amount of waste sent to the Pulau Burung landfill, which only has a remaining 30-year lifespan.
"Waste management is part of the people's responsibility. It has to be addressed efficiently and effectively," he said.
Story by Christopher Tan
Pix by Adleena Rahayu Ahmad Radzi
Video by Darwina Mohd Daud