INSPIRED by Sheryl Sandberg's best-selling book, Lean In, in 2013, three women in Penang eventually came up with a book, titled 'Step In – True Stories of Women Blasting Barriers, Prepping Pampers and Slaying Stereotypes!' featuring 24 notable women in the state.
It took Emi Yamazaki, a long-time Japanese resident in Penang, Krista Goon and Datin Josephine Yoong about eight years to co-author the book.
Chong Eng, the state executive councillor for Social Development and non-Islamic Religious Affairs, officially launched the book at the Penang Harmony Centre (Harmonico) today. Gracing the occasion was Tan Lean Kee, the wife of Chief Minister Chow Kon Yeow.
Chong Eng praised the three editors for their pro bono efforts, thanking Emi for coming up with the idea of writing the book, who was soon backed by Goon of the WomenBizSENSE for her journalistic background and Yoong, who is herself, a publisher of various books.
"The team did a wonderful job of condensing the stories to their powerful essence – the wisdom of 24 Penang women from varied backgrounds, cultures, countries and experiences.
"There are stories from ladies who are Malay, Chinese, Indian, Singaporean, and even Japanese; women who are accountants, engineers, nurses, human resource professionals, hoteliers, conductors, researchers to name a few. And women who have worked or are working in MNCs, NGOs, the parliament, entrepreneurs and housewives.
"I am really delighted that the end result is a carefully thought-out, labour of love, which I am sure will inspire people to reflect about their station in life and think, not just about lean in, but also to take the next STEP towards making women's lives and the society a better place.
"As someone who has been consistently promoting the advancement and welfare of women in our society, it is very gratifying to see such positive initiatives taken by women to help support and encourage other women," Chong Eng said in her speech.
The book, which is published by the Penang Women's Development Corporation, features heartwarming stories and interviews from Boonsiri Somchit, Datuk Rohana Ghani Weiler, Datuk Dr Florance Sinniah, Datuk Seri Ooi Chean See, Datuk Seri Maimunah Mohd Sharif, Datuk Judy Cheng-Hopkins, Hor Wei Vern, Dr Vimi Ramasamy, Mariam Lim, Mary Ang Cheng Imm, YP Tan, Muzlifah Yusoff, Den Chiew Fung, Dr Khoo Seow Wah, Lim Siew Yean, Mary Ann Harris  and many more.
Chong Eng said she found a lot of inspiration from 'Lean In' which was given to her by Bukit Mertajam MP Steven Sim.
"I hope there will be more women who will step in into our shoes, take up important positions not just in your family or in your life, but take up important positions for the country.
"This is because insufficient women are holding important positions. We need more women to step in and make good decisions or policies for women, men and children," she said.
PWDC chief executive officer Ong Bee Leng thanked Chong Eng for supporting the initiative and the three editors for their passion and persistence.
"It was a bitter, sweet and yet fulfilling experience for the three editors.
"I would like to encourage you to grab a copy of the book, which you can learn a thing or two from the contributors from the varied backgrounds," Ong said.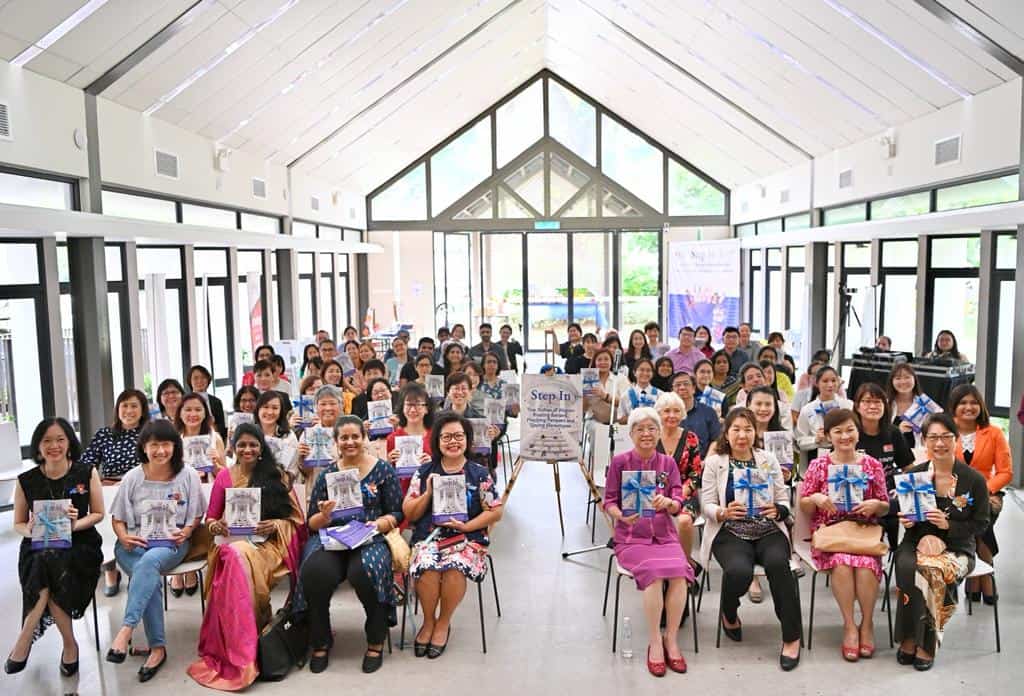 Emi, speaking on behalf of Goon, Yoong and herself, said it was a long journey for them and they were relieved that the book was finally materialised.
"I feel very much like a mother elephant who's just given birth, because a mother elephant has to carry her baby for a total of 22 months – which is the longest gestation period for any animal on this earth.
"If you've been carrying a baby for as long as we have gestating this book – a total of eight years, give or take 2-3 years for Covid, I'm sure you would appreciate how relieved we are for having reached this point.
"And how grateful we are to the people who have made this all possible," Emi said.
Talking about the book, Emi said they wanted to avoid being accused of just doing public relations pieces for successful women.
"We wanted the book to be as honest, open, practical and REAL as the people who were telling the story. Not only because we wanted them to share the not-so-pretty aspects of working in Asia, but because good, practical wisdom is not exclusive to women holding exalted, corporate positions.
"Sure, it is easier to want to listen to a successful billionaire, but a housewife's story can also teach us about the importance of negotiation, balance and the entrepreneurial spirit.
"Our ultimate objective in writing this book is to urge you to savour all the stories in the book, to discover the many wonderful and practical advice to be found within, in the hope that it will help you achieve satisfaction, balance and happiness in life," she added.
Goon said Sandberg's book opened up a lot of discussions and ideas and they believed that women in Penang could provide perspectives too .
"That is how we asked our book contributors to write their stories for us. Some wrote for us, some we interviewed.
"To be honest, it really isn't about the book as much as it is about the ideas in the book and we hope just like Sheryl's Lean In, our book will be a catalyst for other people to have conversations about women, work, life, family and business from a pragmatic Asian viewpoint," Goon said.
Goon, who co-founded WomenBizSENSE with Yoong about 16 years ago, has been running a podcast, called Womenpreneur Asia, since the start of the pandemic in March 2020.
Her episodes are interviews with women entrepreneurs from Asia for listeners particularly to learn from other people's stories and experiences, just like the purpose of why Step In was written.
After the launch of the book, Goon introduced three women featured in Step In – Datuk Dr Florance Sinniah, Dr Vimi Ramasamy, and Den Chiew Fung – on stage to share their experiences on mentor and mentee. They also took questions from the floor.
Yoong also thanked sponsors who have donated the books to various schools and said she hoped that more sponsors would come in to make Step In available to more schools to inspire the students.
Also present at the ceremony were Sungai Pinang assemblyman Lim Siew Khim, Brazil's consul-general in Penang Datuk Annie Lim, Pauline Orikasa, wife of the consul-general of Japan in Penang, and Penang Island City Council councillor Connie Tan.
Step In will be available for sale beginning June 5 at Precious Pages Resources, 19B, Codrington Avenue, Penang or at the Penang Women's Development Corporation. The eBook version will be available soon.
For more information about the book and book sponsorships, please contact Emi Yamazaki at 012-390 9083 or email [email protected].
Story by K.H. Ong
Pix by Muhamad Amir Irsyad Omar