ARE you an art enthusiast and always looking to experience something unique through art installation?
Then, the 'Tree of Light' art exhibition is something you would not want to miss!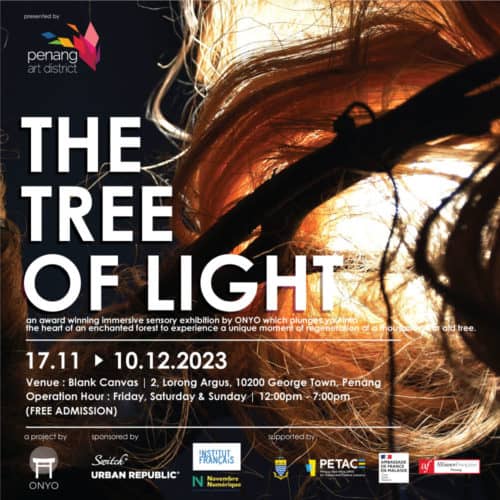 The exhibition is currently ongoing from Nov 17 until Dec 10 at Blank Canvas in Lorong Argus, George Town. It is open on Friday, Saturday and Sunday, from noon until 7pm. The admission is free.
The Tree of Light is an award-winning sensory experience that invites participants to rediscover the enchantment in the world through an innovative blend of sound, narrative, and ecological fable, and breaking free from the screen-dominated reality.
The immersive art installation is a joint collaboration between Penang Art District (PAD) and Paris-based Onyo, with the support from the French Embassy in Malaysia, Alliance Francaise and Switch Malaysia, and also fully endorsed by the Penang government through the state Tourism and Creative Economy (Petace) office.
PAD manager Kenny Ng said the Tree of Light aims to create a captivating fusion of art, technology and therapy.
"This will provide a transformative experience that reimagines the way we engage with the arts.
"This exhibition invites visitors to wear headphones and turn their attention towards the handmade tree sculpture.
"They are encouraged to interact with its elements, following guided instructions for actions like breathing exercises that are designed to 'revive' the tree.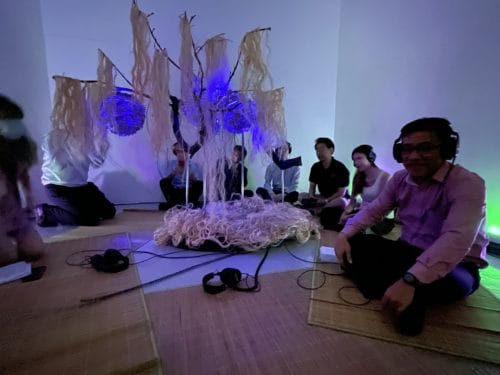 "The immersive element is not only symbolic but also aims to inspire a way of thinking about how we relate to living beings in the world.
"If you play along, then the magic of the experience is yours," Ng said in his speech before Penang Tourism and Creative Economy Committee chairman Wong Hon Wai officiated the exhibition yesterday (Nov 20).
Ng added that the Tree of Light is not merely an art installation but it is a sensory rediscovery where sound transforms into a scene, a landscape, and a story about different life forms.
The exhibition incorporates breathing exercise into its narrative, promoting general wellbeing and providing a unique form of immersive art therapy.
"The Tree of Light also serves as a bridge, connecting participants with other living beings and inviting them to transcend the concept of nature.
"This experience is a harmonious blend of sylotherapy and meditation, ensuring a time of disconnection and wellbeing for participants," he said.
Meanwhile, Wong welcomes the public, art enthusiasts, and students to actively participate and seize this rare opportunity to witness the convergence of creativity between Penang and France.
"Through the use of binaural sound technology, interactive sculptures, and immersive storytelling, join us on a journey into the heart of a magical forest, emerging rejuvenated and tranquil.
"The Penang government also warmly welcomes artists or groups, both domestic and international, to engage in exchanges and organise events or exhibitions in Penang.
"The state government and relevant agencies are resolutely committed to providing full assistance to ensure the smooth progress of the programmes," said Wong.
Story and pix by Riadz Akmal