BATIK Air has restarted operations on the Penang-Guilin route, with a flight landing at the Penang International Airport on Sept 17.
The inaugural flight carried a total of 75 passengers from Guilin, China.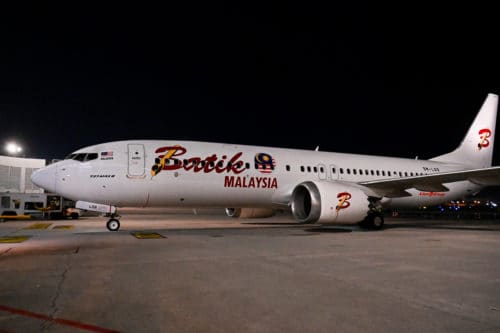 Batik Air sales general manager Navarajan said the airline will operate two flights weekly on this route, departing from Penang International Airport (PEN) to Guilin Liangjiang International Airport (KWL).
"The flights are scheduled to operate every Sunday and Thursday," said Navarajan during a press conference held prior to welcoming the passengers from Guilin.
It is learned that the Penang-Guilin flight services were halted during the pandemic period.
Meanwhile, state Tourism and Creative Economy Committee chairman Wong Hon Wai said China remains an important market for Malaysia.
"I just returned from ITB China in Shanghai, where we had representatives from the tourism industries of Penang, Kuala Lumpur, and Sarawak engaging with stakeholders in China.
"While being there, I took the opportunity to visit some of the airlines and municipal councils to see whether there are other future opportunities for direct flights from other cities in China.
"Congratulations to Batik Air on their initiative to reconnect the flight service between Penang and Guilin.
"Guilin and Penang have a similarity, with each having two UNESCO status," Wong added.
It is learned that on June 23, 2014, Guilin Karst, which is part of the South China Karst, was listed in the list of UNESCO World Natural Heritage Site.
Then on August 14. 2018, Lingqu Canal in Xing'an County, near Guilin, was listed in the World Irrigation Project Heritage.
Penang was accorded the UNESCO World Heritage Site status together with Melaka in 2018 and then received the Penang Hill Biosphere Reserve under the UNESCO Man and Biosphere Programme on Sept 15, 2021.
Chinese consul-general to Penang Zhou Youbin expressed his hope that more provinces and cities in China would resume or launch new flights to Penang for the mutual benefit of both Malaysia and China.
"This year marks the 10th anniversary of the establishment of the comprehensive strategic partnership between China and Malaysia, and next year will be the 50th anniversary of the establishment of diplomatic relations between the two countries.
"There are abundant and diversified tourism resources in Malaysia, especially in the northern region, which has long been favoured by Chinese tourists," Zhou said.
Also present was Penang Global Tourism chief executive officer Ooi Chok Yan.
Story by Tanushalini Moroter
Pix by Noor Siti Nabilah Noorazis