THE Penang-based social enterprise Kairos Agriculture has been awarded the Malaysia Book of Records (MBR) certificate in recognition of establishing the 'First Vanilla Smart Farm in Malaysia'.
Its managing director Ezra Tan Koon Hock received the award from MBR chief operating officer Christopher Wong while witnessed by the Penang Governor Tun Abdul Rahman Abbas during the official ceremony at the farm today.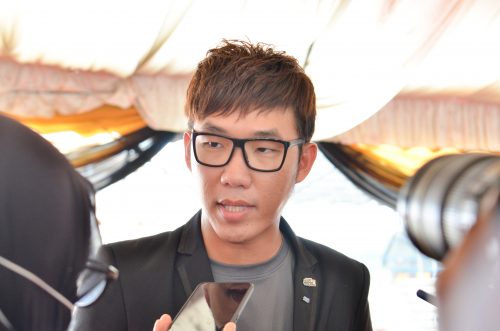 Located in Penanti, Seberang Perai, the farm sits on six-acre plot in the Permatang Pauh Agro-Park and Integrated Eco-Farm.
"Firstly, we are very happy with the award. It is a great honour for us to receive such recognition from MBR.
"We know it's not easy to get this award. Thus, on behalf of the Kairos Agriculture, I would like to thank the state government for their continuous support to us," he said.
According to Tan, the company also plans to set up a vanilla cafe at the farm by the end of December.
"With the opening of the vanilla cafe here, we can promote vanilla products that are made by using pure vanilla extract such as flavouring ingredient in baking and so on.
"Then everyone will have a chance to see, taste and buy our vanilla products.
"Our farm is not open to the public yet, but we are looking forward to that soon," he added.
Kairos Agriculture is fully owned by Jubli Rebak Baru Sdn Bhd.
It was launched by Chief Minister Chow Kon Yeow on Aug 15 this year.
The smart farm adopted technologies such as Big Data, artificial intelligence (AI), Internet of Things, machine learning and drones. The farm now has 8,000 vanilla plants which can be harvested after three years.
During the ceremony today, a memorandum of agreement (MoA) was signed between Kairos Agriculture and PWD Smart Farmability while witnessed by Abdul Rahman and Seberang Perai City Council (MBSP) mayor Datuk Rozali Mohamud.
Kairos Agriculture was represented by Tan and PWD was represented by its founder and chief executive officer Dr Billy Tang.
Under the terms of the MoA, Kairos Agriculture and PWD will cooperate to create a model of a farm that is economically and environmentally sustainable, by improving the health of the community and environment through a social enterprise model.
Also present during the ceremony were state Agrotech and Food Security, Rural Development and Health Committee chairman Dr Norlela Ariffin and Chief Minister Incorporated deputy general manager S. Bharathi.
Story by Riadz Akmal
Pix by Noor Siti Nabilah Noorazis