DEEPAVALI, the festival of light for Hindus, is fast approaching but the festive mood is not in the air yet at Little India.
Conspicuously missing is the usual large crowd and the stalls which have yet to be set up.
This year, the Deepavali celebration, which signifies the victory of 'light' over 'darkness', falls on Nov 4.
The Little India traders are not having high expectations of a roaring business. They even worry things may get worse.
For Maya Silk Centre proprietor K. Rajendar, 65, he feels that things are quite unpredictable during this Covid-19 pandemic.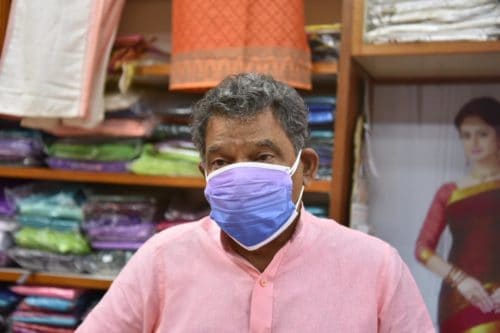 "With uncertainties all around us, I do not want to have high hopes of a good business this year. We might even encounter a severe drop in our sales compared to the previous year.
"Many customers who come all the way from the mainland and as far as from Sungai Petani to do their Deepavali shopping here are unable to come due to the travel restriction. This has also impacted our business.
"We still cannot make much profit unless the travel ban is lifted at this point of time and not when Deepavali is just around the corner.
"As for my Deepavali stock (textile materials), I have reduced the quantity of my orders while bringing in variety of choices," Rajendar told the Buletin Mutiara team today.
Meanwhile, the supervisor of Vinithas Fashion, Palanisamy Alagarsamy, 43, said the shoppers nowadays do not spend lavishly on clothes like in past festive seasons.
"Way before the pandemic took place, for instance, a family would spend RM500 on clothes to celebrate a festival but now has cut their maximum expenditure to RM200.
"They give priority to essential needs, such as the provisions due to the economic situation which is understandable.
"This year I feel that Deepavali sales will be lower. We are looking to next year for business to pick up," Palanisamy said.
Samy Jayabal, 51, who sells variety of Indian snacks, shared a similar view for this year's Deepavali sales.
"So far, the business is definitely slow compared to last year but it may catch up as we get closer to the festive date.
"I heard from some sources that traders will be allowed to set up their stalls the last 10 days before the Deepavali celebration.
"It is undeniable that the restrictions imposed as measures to curb the Covid-19 pandemic have affected our businesses here, more so during the Deepavali celebration.
"Whatever it is, we still must adhere to the SOPs that the authorities have laid down for our own safety and benefits," said Samy, who manages his relative Sinnapan Kuppukali's stall (opposite Meera Sahib) at Little India.
Meanwhile, a visitor to Little India, Devi Muniratnam, 39, hopes that people will tone down their Deepavali celebration and put safety as the top priority.
"It is wiser for people to only come out to buy things that are necessary since the Covid-19 cases are still high. I hope that families will not bring their children along during their Deepavali shopping.
"Just like myself, I believe many people have already changed their mindset to celebrate Deepavali in a moderate manner.
"Apart from that, I can also see that the traders over here have reduced their prices as they understand the financial situation of the shoppers. Usually, we will bargain with them," said Devi, a tuition teacher.
Agreeing to a moderate festive celebration, a couple, Jeevan Annamuthu, 65, and Vani Muniandy, 50, said they have switched to online shopping this time around.
"We have decided to have a simple celebration as everyone is affected financially. We have also opted to do online shopping for Deepavali which is much convenient," they said.
Story by Tanushalini Moroter
Pix by Darwina Mohd Daud