NOT in his wildest dreams did he imagine he would be a cardiothoracic surgeon, but by a twist of fate, Sotheenathan Krishinan, became one and an exemplary one at that.
Born as the middle child among five siblings, his two elder brothers and two younger sisters are also medical doctors by profession. That feat in itself has made this family of humble beginnings from Dublin Estate (now known as Ladang Sungai Dingin), near Kulim in Kedah, all the more famous.
All five siblings, who studied in local universities on government scholarships, are practising doctors in government hospitals in Malaysia.
The eldest is Dr Saravanan, a cardiologist, while the second is Dr Sudhagar, an orthopaedic surgeon. Both are 46, two years older than Dr Sothee, as he is popularly known. They are followed by sisters Dr Jegdiswary, 39, a radiologist, and Dr Kasthoori Thilaka, 36, a doctor in family medicine.
Their parents, Krishinan Arunasalam and Muniammah Kandasamy, aged 70, are both retired educationists now living in Taman Selamat, Bukit Mertajam. Krishinan was an English teacher at SMK Taman Sejahtera in Bukit Mertajam while Muniammah was a former headmistress of SRK (T) Ladang Batu Kawan in Nibong Tebal.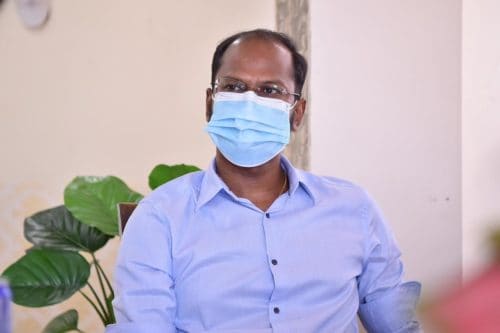 "Our parents encouraged us to study hard and supported us. We also looked up to our eldest brother for guidance and motivation," said Dr Sothee, who together with his brothers, were educated in Bukit Mertajam High School.
To become a cardiothoracic surgeon takes years of study and long hours of training. In fact, it took Dr Sothee some 15 years after graduating as a doctor from Universiti Sains Malaysia in 2002 to become a full-fledged cardiothoracic surgeon in 2017.
He spent four years in Universiti Malaya doing his Masters in General Surgery, during which time he also completed Membership of Royal College of Surgeons (MRCS) in Ireland.
Thereafter Dr Sothee joined the cardiothoracic surgery training in Malaysia for four years, including a year of practice at the National Heart Institute (IJN). Following that he was posted back to Penang Hospital.
One of the highlights of his career was that he was the only Malaysian from the Ministry of Health, who was selected for a two-year fellowship in cardiothoracic transplant surgery in Newcastle, England.
During his training there, Dr Sothee had flown to various hospitals all over UK on an Air Jet provided by the National Health Service to harvest organs for transplantation. He commented that it's one of a kind experience, as he witnessed two polar opposite situations, where a person's loss gives life to another as if merged together by destiny.
Apart from that Dr Sothee also picked up an additional skills in endovascular stenting by attending short courses in Prince of Songkla University in Hatyai.
He is now a lone practitioner of this skill in northern Malaysia and he is satisfied with providing this new service because it prevents patients from undergoing unnecessary open surgeries.
When I asked him why he chose to become a cardiothoracic surgeon, he said " I didn't choose to become a heart surgeon . I didn't plan anything. Everything just fell in place."
He wanted to do electrical engineering , but he couldn't get a place in University Technology of Malaysia after his Form 5. Then he was forced to do Form 6. After STPM , in view of his excellent results he was advised to do medicine by his eldest brother.
During medical school days he loved to spend time with kids so he wanted to become child specialist. However after he started working as a junior doctor at Sungai Petani Hospital , he admired the lifestyle of surgeons, hence he changed his career path.
After he became a surgeon , he decided to explore a speciality which is considered to be challenging by many. 
 "When I was studying in USM, I liked paediatrics. I received a best student award during my 4th year exam. I wanted to become a paediatrician to deal with kids. But once I started working, I found it difficult to handle children. You know, I could not accept their deaths.
"So that was a push factor. The pull factor was that I started liking surgery. At different phases of my career, different things happened. As a general surgeon I chose cardiothoracic to specialise in because it was one of the postings that I never had any experience in or exposure to," recalled Dr Sothee.
Looking back, he said Datuk Dr Mohan Nallusamy, a paediatrics surgeon from Hospital Alor Star, and Dr Kunasegaran, an obstetrics and gynaecologist from Hospital Sungai Petani, made an indelible impression on him.
They were very dedicated, humble and caring. Dr Sothee not only admires their qualities but also patterns his lifestyle after them.
Dr Sothee has performed some 1,000 heart and lung operations so far, often working even on weekends.
He is one of four surgeons at the Penang Hospital Cardiothoracic Unit, which is headed by Datuk Dr Basheer Ahamed Abdul Karim. There are only about 50 cardiothoracic surgeons in Malaysia.
According to Dr Sothee, the Penang Hospital Cardiothoracic Unit has a very good team spirit as they do their best to cope with a long waiting list among the northern states. There are times he is required to fly to other states for a week or two to perform surgeries.
At Penang Hospital, they perform between two and four heart surgeries per day, with each operation taking five to eight hours. The more complicated cases can take up to 12 hours.
"Every day I pray for my patients' well-being. Every day is a new journey for me when I do heart surgery. The procedure may be the same every day but each patient is different.
"I always tell my patient that I am just a tool for God to use. Touch wood, most of my cases are okay."
A career as a cardiothoracic surgeon may be lucrative, the workload can be heavy and stressful, with little time for family and recreation.
In addition, Dr Sothee has teaching engagements, administrative works and involvement in combined surgeries.
He has a very supportive wife in Dr Sivasangari Subramaniam, 40. She is a doctor at the same hospital, a scientist to be more precise with research papers in more than 100 local and international publications over the past 20 years.
Love blossomed between them year 2000 while both were doing their medical studies in USM medical branch in Kubang Kerian, Kelantan.
She accomplished her Master and PhD majored in ethics and Evidence-Based Medicine in Scotland, UK. Later, Dr Sivasangari also obtained her second Masters majored in research in USM.
The couple has two children – Sai Deepikaa, a Form Five student at St Georges Girls School, and Sai Dattatreya, a Year Three pupil at St Xavier's Primary. Both are studious and very obedient.
Having a number of family members in the medical field has its advantages. Dr Sivasangari's mother Mariyammal Maran, 73, has had heart failure thrice and is alive today, thanks to the home CPR and other medical treatments administered by Dr Sothee and his brother Dr Saravanan.
Asked about her husband, Dr Sivasangari, who hails from Labis, Johor, said: "He is a very dedicated doctor who always give priority to the well being of his patients.
"He will pray and meditate every morning before going to work. Due to long hour surgeries, having late lunch and coming back home late has become a norm in his life.
"If he returns early from work, he will spend a bit of time with the children. Sometimes, we will go cycling and jogging as well.
"He made the habit of visiting all his patients that has undergone surgery in intensive care unit every night before going to bed. "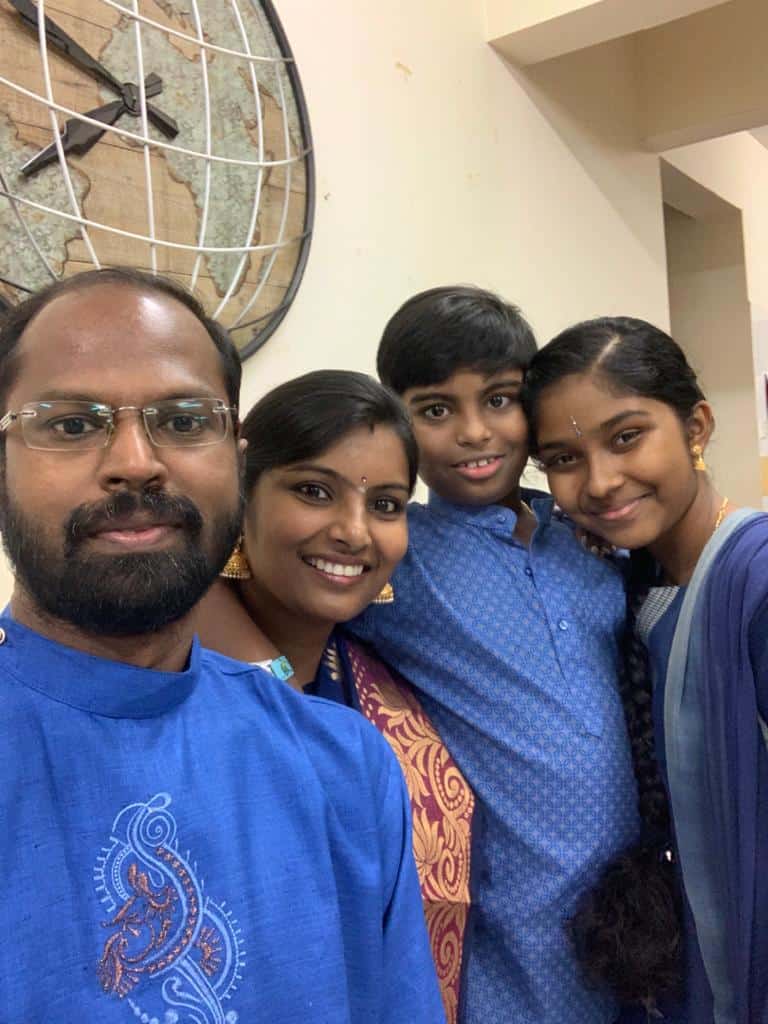 Dr Sothee loves to read books on philosophy. He lives by the maxim, "Do your job sincerely and leave the rest to God."
He and his wife have joined the Lions Club of the Penang Rising Star which has conducted 68 projects for the community.
Dr Sothee, who joined the club in 2019 as its vice-president through the encouragement of David Seow Chee Hoe, will succeed the former national badminton player as the club's president next month for a one-year term.
Being a heart and lung specialist, what is his advice for the public?
"Don't smoke," Dr Sothee stated categorically.
"I don't operate on smokers. I will tell them to stop smoking, two weeks minimum to show their commitment to their surgery. Of course, I do operate on smokers in emergency cases. But I will tell them to quit smoking after the operation.
"The smoke that they release is double in its toxicity to other people, the second-hand smokers. So, they are actually doing a great sin.
"There are also many other surgeons who won't operate on smokers. If they smoke again and cough, whatever we had done inside may be okay, but they may break the sternum (breastbone)."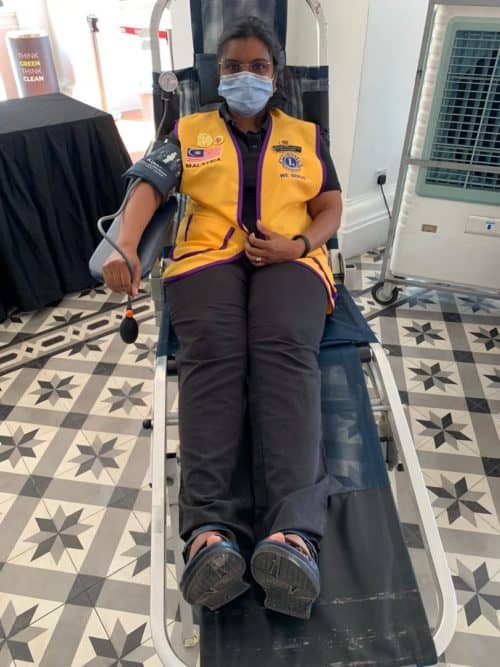 On the ongoing Covid-19 pandemic, Dr Sothee said no one knows what the long-term effects on the lungs are but there would be a need to have organ care plan.
With his qualifications, experience and reputation, Dr Sothee has had offers from private hospitals and overseas.
"Newcastle wanted him to stay on because they say it is difficult to find a very committed surgeon. But we love Malaysia, the people as well as the environment," Dr Sivasangari said.
Story by K.H. Ong
Pix by Adleena Rahayu Ahmad Radzi and courtesy of Dr Sotheenathan