PENANG Development Corporation (PDC) has undoubtedly played a pivotal role in the transformation of the state since it was formed 52 years ago.
Currently helmed by Datuk Mohd Bazid Abd Kahar, PDC continues to focus on its principal activities such as industrial park development, township development, urban redevelopment, affordable housing, and investments.
Mohd Bazid joined PDC in 1979 as a technician and then became a town planner in 1983 after taking up a course under the Education Assistant Programme that was financed by PDC. Climbing up the corporate ladder, he was eventually promoted as the chief executive officer in February 2019.
Today, the affable Mohd Bazid, 62, runs the state's premier development agency with a style of his own to spearhead the socio-economic growth of the state.
In an interview with Buletin Mutiara recently, he spoke on a wide range of subjects, including PDC's goals and new strategies, Covid-19 challenges, and future development plans for Penang island. He would touch on the development plans for Seberang Perai on another occasion. Below is the interview.
Q: Datuk, could you please tell us a bit of PDC's history and its journey thus far?
A: PDC has been involved in the planning and implementation of development of Penang since the 1970s. It started with the opening of the first industrial park in Bayan Lepas. After that, the development of Bandar Bayan Baru followed to meet the needs and manpower of this industrial park area.
After 50 years, the development areas entrusted to PDC on the island have matured. Therefore, to ensure the needs of Penang residents are met in line with the wishes and aspirations of the state government to develop Penang as an international city, PDC is now involved in the planning and implementation of urban redevelopment and renewal here.
Q: When you took over PDC as its CEO in 2019, you came out with a five-year plan. What are its main objectives?
A: We drew up a five-year Strategic Plan 2019-2023. It is a comprehensive, focused action plan to ensure PDC continues to create new growth centres, enhance the value of the assets that we have, support the state government's initiatives, and strengthen our human capital.
Q: Land scarcity is a big issue on the Penang island. What is PDC's plan?
A: A lot of land has been developed in Penang island. Logically, we have played our role with all sorts of development – industrial, commercial, and residential. And we have been working closely with InvestPenang.
But there are still empty lands that belong to PDC. We've 407 acres in Paya Terubong and 209 acres in Bukit Jambul hills. These hilly lands are, however, very difficult to develop.
We want to do something there, certainly not create a concrete jungle. We are still thinking of ways to develop them without disturbing the environment.
Perhaps, we may go for durian plantation. For instance, planting Musang King durian trees for higher returns. At the same time, the orchards can still become a tourist attraction.
We are now in discussion with the state Agriculture Department, PLANMalaysia, Penang Island City Council (MBPP) and others. We will regularise those illegally operating there now.
Q: What about some small plots of land that PDC still have?
A: These lands can either be sold or develop via joint ventures with private companies.
The trend nowadays is to provide global services business (GBS) buildings for related development.
Since 2017, PDC has built two GBS buildings in Bayan Baru, namely GBS @ Mayang and GBS @ Mahsuri. They provide office space for 'light asset' companies and business process outsourcing (BPO) companies to increase their operational efficiency.
The two GBS buildings are fully occupied, and they bring PDC good money. We intend to build a third GBS building, embarking on this build and lease programme to attract strategic investors to Penang.
Q: Even before the Covid-19 pandemic, the Penang state government has proposed to the Federal Government to expand the Penang International Airport to cater to its burgeoning tourist arrivals. How will PDC play its role here?
A:  We have a piece of land, about 100 acres, next to the airport. This is the only airport that is very important for Penang's success. Being a state agency, we have to set it aside for the Penang airport expansion.
There is talk of using the area for warehousing. Whatever decision the Federal Government or Transport Ministry makes, PDC would like to partake in that development.
Historically, PDC just sold land. In our strategic plan now, we want to develop our land and find ways how we can be involved like build and lease for long-term. With our new approach, the buildings still belong to PDC and the ongoing income is from the rent collected. This will benefit PDC in the long run.
Another possibility that PDC is looking at is to build central living quarters for the proposed Penang South Reclamation project. There will be a lot of requirements for workers' accommodation.
Q: Any plan for land reclamation?
A: Yes, we also want to create land again. We have identified 150 acres of land from Queensbay Mall until the second Penang bridge for waterfront development. In fact, we have called for RFP (Request for Proposal) and are now evaluating the proposals. If successful, I believe this project will be a new attraction.
If you look at foreign countries which are surrounded by sea, they usually have waterfront development. But we do not have many of these in Penang.
Around 1975, PDC had reclaimed 1,120 acres of land from the Penang Bridge to Batu Maung. The reclaimed land has enabled Penang's industrial sector to thrive with various reputable factories making huge investments in the area.
Apart from that, there is also a residential, commercial development and here is also the largest shopping mall in the norther region, Queensbay Mall.
Q: Datuk, can you please elaborate on the Urban Redevelopment Plan?
A: Some of the low-cost housing apartments built by PDC are quite old. They may have been built some 40 years ago. One such building is the very low-density Mahsuri flats in Bayan Baru. There are five blocks with each block consisting of only 60 units.
PDC had held talks with the residents and the area's assemblyman to get their feedback to tear down the dilapidated buildings and rebuild them with modern design, better facilities, and space.
From the feedback, many welcome the idea. The owners will get new homes, new value, and new atmosphere. This project is expected to start in 2022.
However, the Mahsuri site does not belong to PDC now. It is managed by the flats' management council (MC) and there are legal implications. The latest is that the state Housing Board will take over the case and PDC will help facilitate and assist the board.  So, as I said in our strategic plan, we will support the state government's initiative.
PDC has also bought back several prefabricated factory units that were built around the early 90s with the aim of redeveloping them as vertical factories with modern and high-tech designs. We have 22 factory units. This is something new for Penang and we want to look at how Singapore did it. It is still in the planning stage and I hope we can implement it soon.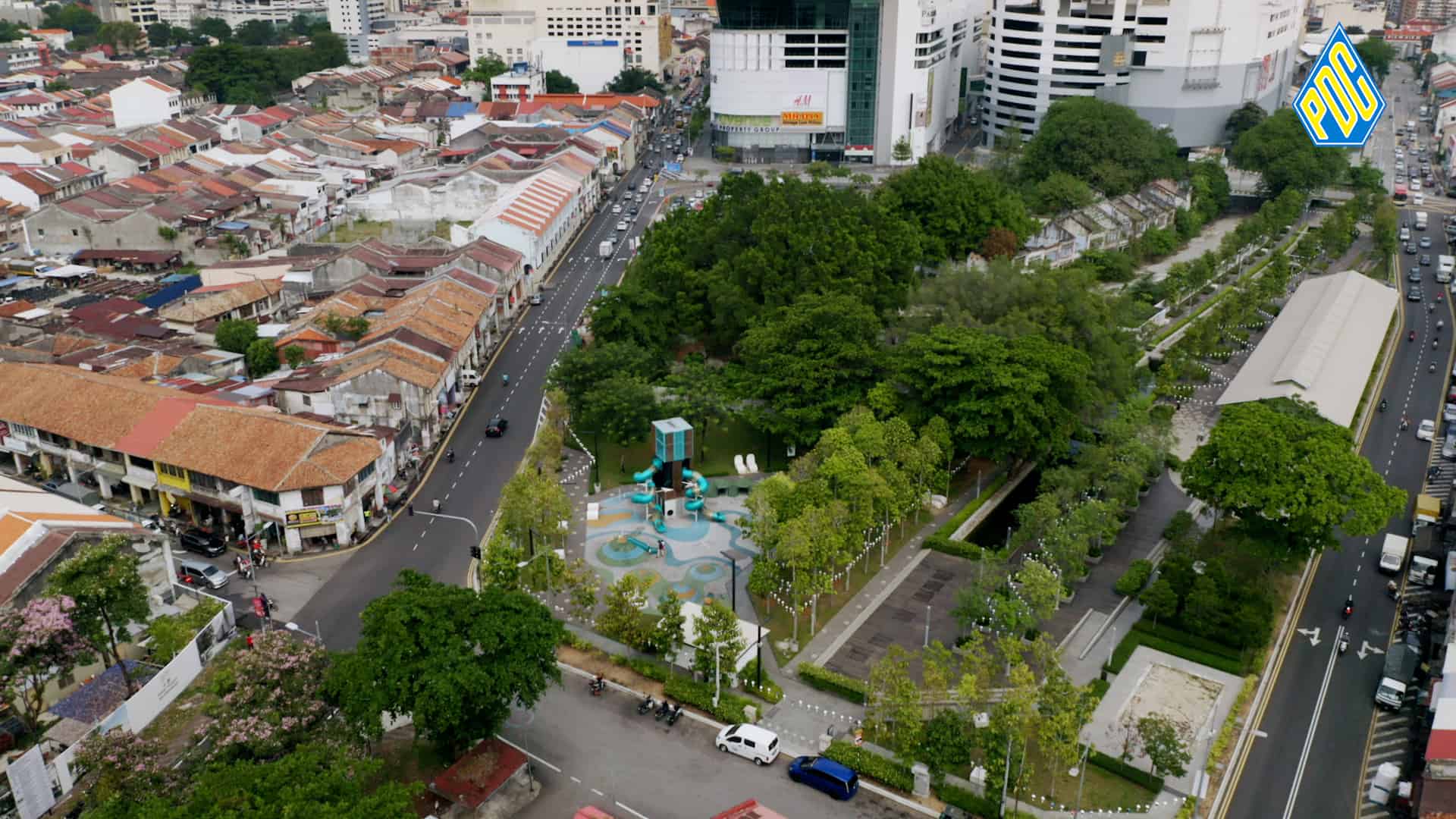 Q: Moving to George Town, what is PDC's focus?
A: We will try to enhance Komtar. We will not slack on maintaining Komtar which houses the state's administrative centre. Who does not know the iconic Komtar? Only World Group has invested quite heavily to draw tourists there. And we had spent close to RM11 million to renovate Level 2 and Level 3 for the opening of the Urban Transformation Centre (UTC) in August last year. The UTC houses several government agencies for the convenience of the public.
We have submitted a new plan for Komtar Walk to have some shops to serve the people as well as to beautify the place with a new landscape.
The nearby Sia Boey Urban Archaeological Park that PDC had rejuvenated in 2019 proves to be a hit. Just a short distance from the park, we have a piece of land where a row of 24 old and unoccupied shop houses stand. Our PDC technical team is looking into turning them into outlets that can attract the young.
We want to inject life into that area, like installing proper lighting, allowing food trucks to operate at night, opening the place for buskers to perform at night, and beautifying the landscape so that the place could be used for small traders to sell their wares in the daytime.
We are also looking at developing some parts of the Weld Quay and Macallum areas to provide a new environment.
Q: What are PDC's investment plans?
A: In addition to traditional activities, PDC is exploring to join REIT (real estate investment trust) with an appropriate partner to generate income from selected existing assets. This is one of the mechanisms to ensure the continuity of inflows to the PDC which will be used to fund future development plans for the state.
We have factory buildings and shop houses that are rented out and during this Covid-19 pandemic, the recurring income generated from the rentals helped save PDC.
PDC's modus operandi was to sell land or sell houses. Now, when we have land, we want to participate in the construction and management of the projects through our subsidiary companies like PDC Properties Sdn Bhd, PDC Nusabina Sdn Bhd and PDC Setia Urus Sdn Bhd.
To further generate revenue, PDC is now going to get involved with all types of housing schemes. Why? We cannot just stick to building low-cost housing projects. This type of investment is always a loss or unprofitable for PDC. But that is the social work we need to do. However, for us to do that, we have got to revive or get involved in high-end projects for cross subsidisation. We have four such projects lined up.
Q: Besides housing and industrial development, what notable infrastructures have PDC contributed to the community?
A:  We, in PDC, do not get money from the state government or Federal Government. People have the perception that PDC is 'kaya' (rich). Quite a lot of people misunderstand PDC. We, in fact, borrow money from bank when we get involved in housing projects.
Whatever profit we make, we plough it back for the people.
You know, the stretch of expressway from the first Penang Bridge to Batu Maung was financed by PDC at a cost of RM98 million.
PDC also financed the entire construction of the Penang State Stadium in Batu Kawan on its own 120 acres of land with a total cost of RM110 million.
We had also previously sponsored the Penang state football team.
Q: Lastly, what is the future of PDC?
A: We need to acquire land so that the next generation of PDC staff can continue the development work, just as the late Tun Dr Lim Chong Eu did when he told PDC to buy Batu Kawan.
We also need to participate in viable projects with the private sector, either through PDC or its subsidiaries.
We are also looking beyond Penang. We want to connect with Kedah SEDC (State Economic Development Corporation) and Perak SEDC.
We have limited land but not them. Perhaps, we can look at building factories, for instance, in Alor Pongsu, Taiping or Kamunting, if investors are interested. They are not far away, and we have good network. Besides, if the factories are built there, more jobs are created.
I always believe that when we enrich our neighbours, we also enrich ourselves with the spill over economy. It is just like the Singapore and Johor connection.
Story by K.H. Ong
Pix by Adleena Rahayu Ahmad Radzi, Law Suun Ting and courtesy of PDC