TOURISTS visiting Air Itam in Penang can now have more things to explore than just going up to the famous Penang Hill and Kek Lok Si Temple there.
Under a project called 'My Home, Air Itam', Air Itam assemblyman Joseph Ng Soon Siang said six pieces of mural and a sculpture were recently created for the township to boost tourism.
"Murals are a trend nowadays to attract tourists from near and far. We got all the six murals and one sculpture done two weeks before Chinese New Year.
"So, having these murals is one way to help and revitalise the economy that is badly hit by the Covid-19 pandemic.
"As the assemblyman for Air Itam, I must say that the residents and voters cannot solely rely on me giving handouts when they are facing financial difficulty and so on.
"Today, I believe in providing a long-term solution rather than a short-term one. When the Covid-19 situation is under control and tourists can come here, all these murals will help to boost tourism in this town," said Ng during a press conference in Air Itam town today.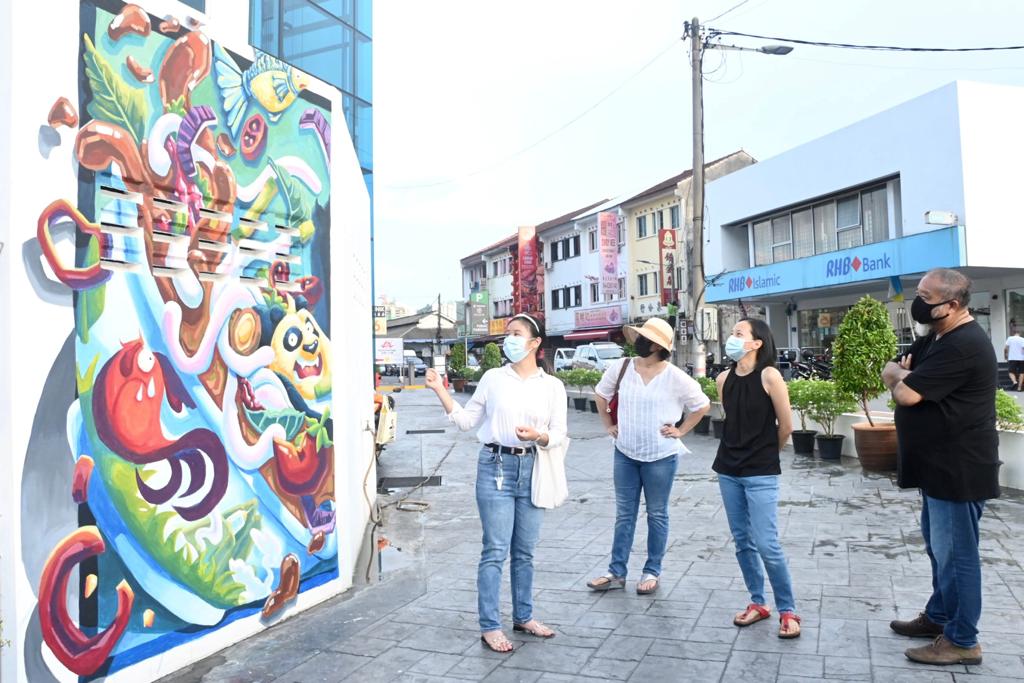 He later took the media members on a short tour of the town centre to show and explain each of the six murals' significance and history.
"We notice that after the tourists had visited Penang Hill and Kek Lok Si Temple, the most they would do was to go for Air Itam laksa which is considered one of the famous delicacies here. After that, they would go back to town to continue their stay there.
"We were thinking of why not make Air Itam a place for the tourists to have a vacation, something like a two-night one day here. To do that, we have to have something special to arrest their interest. That's when the idea of drawing murals came in," Ng explained.
With the help of curator Tan Chor Whye from Can Can Public Art PLT and researcher Teresa Ong, who is an Air Itam resident, Ng said the project was aimed at having an impact hopefully like the buzz created by Lithuanian artist Ernest Zacharevic with his 'Little Children on a Bicycle' mural in Armenian Street, George Town.
The "My Home, Air Itam' project was all undertaken by local artists.
Penang's promising artist Dana Ng, 22, was involved in three of the six murals, painting 'Laksa' and 'Trendiness!' herself and jointly creating 'Kites Got Stuck' with Sabahan Nur Hana Tan.
A graduate of One Academy Penang, Dana described her artwork on 'Laksa' as a pop culture mural about the beloved dish that is an icon of Air Itam.
Laksa is thick rice noodles served in spicy soup with fresh condiments, such as sliced cucumbers, onions, mint, pineapples, strong and sweet prawn paste, and ginger flower.
There are two established laksa stalls in Air Itam. The one in the market is run by a brother, deaf from birth, and assisted by his sister, while the one opposite the market is a family-run business since 1955.
As for 'Trendiness!', which can be viewed within the compound of DeView Hotel, Dana painted Goku, an anime male character, showing off his huge and delicious 3D tuna sushi, with Pikachu, the most well-known species of Pokemon, performing a selfie with his camera phone attached to a selfie stick.
'Kites Got Stuck' reflects a good understanding and teamwork between Dana, who specialises in illustration and game art design, and Hana, who is an established figurative artist.
It depicts children playing kites and it is hoped that the mural will bring back fond memories of those visiting Air Itam of this once popular pastime.
The other three murals were created by Amir Andhar from Malacca (Generation to Generation), Khow Zew Wey, popularly known as Bibichun (Susu Tarik) and Leonard Siaw from Sarawak (Curry Mee Ah Ma).
The 'Generation to Generation' artwork of Amir, a mural art and graffiti practitioner, is the largest of all the six murals, measuring 20 feet by 35 feet.
It is located behind a busy kopitiam (coffee shop), depicting a lively environment remains as one generation after another continues to live in Air Itam.
The bustling activities in the market and roadside stalls in the morning make the area worth a visit to experience the authentic life of old Penang.
Bibichun's 'Susu Tarik' mural depicts milk seller, Kathiravelu Seenivasan, 'pulling' fresh milk for his customers.
In real life, Kathiravelu, 52, has been operating his street stall in Jalan Air Itam for 32 years since the age of 20.
He was delighted to pose for photos with Ng and Bibichun.
Give his milk drink a try when you check out the mural.  By the way, Kathiravelu speaks fluent Hokkien.
Also, don't miss the mural of 'Curry Mee Ah Mah' by Leonard. You can find it when you walk into the lane beside the Air Itam police station.
It depicts the two famous Siamese sisters, Lim Kooi Lye, 87, and Lim Kooi Heang, 89, operating their stall and reflects their hardship while earning a living.
Both the Lim sisters, who migrated from Thailand, were a hit with the media practitioners when they were present at the event, posing for photos with smiles.
Kooi Heang said they had passed on their trade to their younger generation, having stopped for a year because of the Covid-19 pandemic and also their age.
They are known for their authentic Siamese recipe of noodles served in rich, fragrant curry-flavoured soup that has long captivated the taste buds of many.
Watch out for the sculpture of a Sunda slow loris hung on a pole as you leave Air Itam.
Ng said the purpose of having the slow loris sculpture was like to say goodbye to the visitors and hope they will come back to visit Air Itam again.
He said they planned to use QR codes for the murals to incorporate a lot of information on all the artworks.
Also present at the press conference was Bukit Gelugor MP Ramkarpal Singh.
He said the 'My Home, Air Itam' project was a very good initiative by Ng that would help bring in more tourists.
He thanked the artists and all who have contributed to make the project a success.
Story by K.H. Ong
Pix by Alissala Thian