LIKE some authors who were rejected by publisher after publisher before becoming renowned, Penangite Sim Choo Kheng was turned away by bank after bank when he wanted to secure loans to establish the Escape theme park in Teluk Bahang.
Any man of lesser stuff would have given up hope, but Sim, the founder and chief executive officer of Sim Leisure Group, persisted to see his dream come true.
Today is a special day for him and his team when Chief Minister Chow Kon Yeow and Finance Minister Lim Guan Eng jointly opened the Escape Phase 3 and the world's longest tube water slide at the theme park set in a natural forest environment.
For those present, it was a privilege to hear Sim tell his success story and of course, the hurdles he had to overcome.
Back in 1998, Sim Leisure won a theme park project in Vietnam. Staying in a village near the project site, Sim's love for nature was rekindled as he saw children there having loads of fun climbing tress and swinging ropes.
That reminded him of his similar childhood days in a kampong called Thean Teik Estate.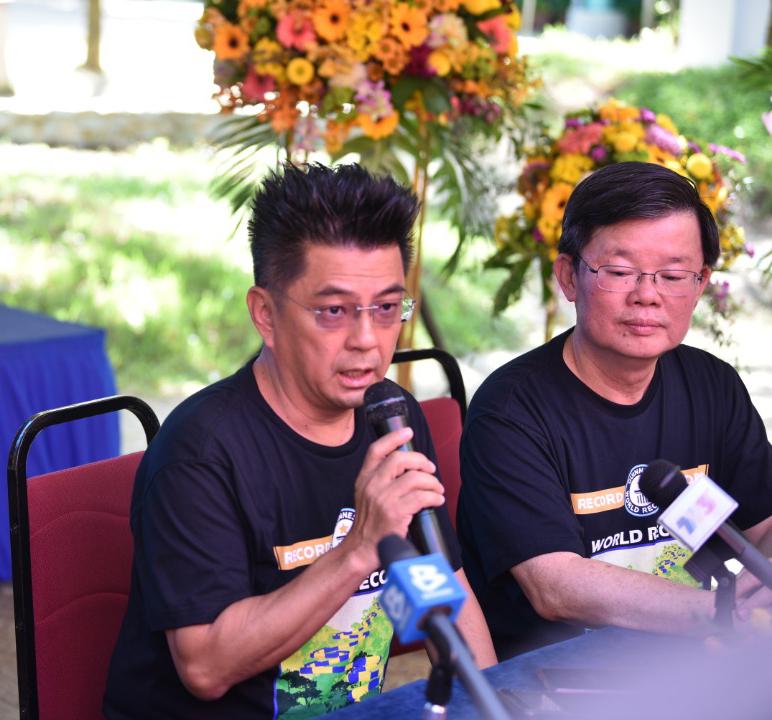 "It was during this time I had my second childhood. Everything the kids did in the village brought back the memories of my childhood days," he recalled in his speech.
"In that village in Vietnam, I had my light bulb moment. I wanted to create a theme park that draws inspiration from my playful childhood.
"I was so sure the theme parks of the future will be about rediscovering our childhood and reconnecting with nature."
So, Sim started to pitch Escape around the world for 11 years. And it was during this time, he was put through the furnace.
He continued: "Unfortunately, nobody wanted my kampong concept. Nobody believed it would work.
"Every investor wanted a piece of the Magic Castle and Roller Coasters. This is the layman's perception of a theme park.
"Big huge colourful entrance, roller coasters, Cotton Candy and Turkey Legs.
"I even met one investor questioning me how can a theme park work without roller coasters."
But the break came in 2008 when Sim Leisure was involved with the construction of Universal Studios theme park in Singapore.
Then, another opportunity came the following year when the new government of Penang, under the then Chief Minister Lim Guan Eng, initiated a new tourism vision through an open tender for a tourism project on the former construction site of the Teluk Bahang dam.
Because he stubbornly believed in his repeatedly rejected kampong concept, Sim Leisure showcased it again and won the bidding process.
Although it seemed a happy outcome, it was the actually the start of another round of heartache. This was because many did not believe the project would be viable as his company wanted to raise RM20 million.
"Many of them wondered how I could pull this off when most of the theme parks were making losses.
"Bank after bank, trust me, I had met every single bank in the country … except Bank Negara. None of the banks would lend us the working capital for this project.
"I wanted to raise RM20mil for Waterplay but all the banks wanted me to provide RM20mil as security. I was confused."
The banks even told him that the land lease he had with the owner, Penang Water Supply Corporation (PBAPP), could not be securitised and was not worth anything.
As time was running out, he decided to use his life savings to start with the smaller version of Phase 1 Adventureplay.
He said it was do or die.
Looking back, he still vividly remembers the very first day of the soft opening on Nov 7, 2012. He had invited PBAPP chief executive officer Datuk Jaseni Maidinsa to give away a prize to their first customer.
"We waited for a whole hour before our first customer walked through. We had only 23 customers that day. I was very worried and scared. And I wondered if this kampong theme park was indeed a 'gone case'.
"It has been seven years now. Escape's daily attendance has grown from 23 to abut 650 customers. We have gone through all sorts of challenges and emerged a winner."
One outstanding achievement for Sim Leisure is that Escape has been ranked the No. 1 theme park in Malaysia for the last five years by the world's biggest and most recognised travel review site TripAdvisor, even beating international brands that were built with much bigger budget.
Escape also won the most prestigious tourism award in Malaysia, the Ministry of Tourism's Best Theme Park Award.
And just last month, Guinness World Records awarded one of their attractions as the Longest Tube Water Slide in the world, covering a distance of 1,111 metres.
Last March, Sim Leisure Group even got listed on the Singapore Stock Exchange.
To date, Sim said they had invested RM60 million for the whole Escape project.
Why is Sim sharing his story?
He explained: "With the growth, we are ready to bring our Penang brand to the world.
"The moral of the story is when no one believes in you, you may be on to something BIG because big ideas are not conceivable by the ordinary minds."
Both Chow and Lim congratulated Sim for the company's remarkable achievements.
Chow said he looked forward to watching Escape shine and continue to be a beacon of light for Penang and the tourism industry.
Lim praised Sim Leisure for consistently introducing new attractions and products to keep visitors interested and coming back for more.
"This is the first eco-tourism project in Penang and probably in Malaysia. Repeat visits by tourists are how you measure your success," said Lim.
He added that Escape is a fine example of the 4Ps partnership between the public sector, the private sector, professionals and the people.
Lim said the state government, through the Penang Development Corporation (PDC), provided RM16 million funding for Sim's project when no financial institution was willing to do so.
He recalled that it was done through Redeemable Convertible Preference Shares (RCPS) worth RM16 million shares in Sim Leisure issued to the Penang government in 2016 for the construction of Escape.
"I feel banks should be more forward-looking by undertaking project financing based on feasibility of the project instead of basing it on safe traditional collateral financing.
"Earlier this year, Sim Leisure Group paid back the RM16 million it owed in full, including RM3.4 million in interest to PDC. This was done two years ahead of its maturity," Lim said.
He said he was also proud of the world record of 1,111m set by Sim Leisure for the longest tube water slide in the world. It shattered the previous record of 365m set in Germany by 212%.
Sim, gushing with pride, later led Chow, Lim and many other guests to the top of the hill using chair lifts to see the starting point of the water slide.
Some went for a ride too and were thrilled. For Sim, he knows what it means to have childlike fun and make money too.
Story by K.H. Ong
Pix by Adleena Rahayu Ahmad Radzi