THREE days… 39 live record-breaking attempts… 45 records being showcased!
The Malaysia Book of Records Live! 2019, also known as MBR Live! 2019, is finally here in Penang and the public get to experience the exciting event from now until Sept 22 at Gurney Plaza.
Themed Extraordinary Malaysia, the event in Penang is the second installation held by the Malaysia Book of Records (MBR). The first was held in Kuala Lumpur last year.
Chief Minister Chow Kon Yeow, who was present at the grand opening, said Penang was no stranger to breaking records.
"We have been recognised through numerous awards over the years. The upcoming one is the water slide at ESCAPE theme park in Teluk Bahang, where the operator is attempting the Guinness World Records for longest water slide in the world.
"This event serves as a source of inspiration to promote the spirit of patriotism among Malaysians.
"Together, we witness live record-breaking attempts, learn about extraordinary Malaysians and some even tried to become record breakers themselves," Chow said in his opening speech before launching the MBR Live! 2019 this evening.
Chow was present together with state executive councillors Zairil Khir Johari and Yeoh Soon Hin. Joining them was Pulau Tikus assemblyman Chris Lee.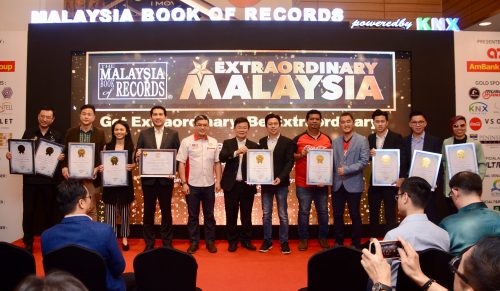 Magician Kimmy Liew Mun Fung, 35, from Kuala Lumpur, wowed the crowd when he successfully 'ate' 59 fire torches in 58.84 seconds, during his attempt to complete the 'Most Number of Fire Torches Eaten in 60 seconds'.
His success was witnessed by Chow during the grand opening ceremony.
After setting the Malaysia Book of Records today, Liew hoped to break his own record tomorrow.
Speaking to Buletin Mutiara, Liew said that it was his first attempt trying to set a record for such challenge.
"My throat felt horrible. However, I'm happy to have made it into the Malaysia Book of Records," Liew said.
"I had the idea of attempting the stunt about five months ago and since then I started practising.
"My lips got burned while practising but not today," Liew added.
There are also the '72 hours Longest Non-Stop Haircut Relay by a group', and '48 hours Longest Team Relay on Treadmill' (Team of Four).
MBR chief operating officer Christopher Wong urged more Malaysians to take part in 'MBR Live!' 2019.
"Go beyond the limits to achieve your goals and dreams and stand a chance to get into the Malaysia Book of Records.
"We hope to continue this initiative and make this event an annual affair to promote patriotism among Malaysians," Wong said.
The MBR Live! 2019 was held in conjunction with the Merdeka and the Malaysia Day celebrations.
Visitors can witness live record-breaking attempts such as the 'First Coffenaited Painting using Starbucks Coffee as Paint', 'Fastest to Escape from Water Torture Cell' and 'Most Number of Reverse Palm Push Ups in One Minute', during the three-day event.
Seven fun-filled record titles will also be open for the public take part, namely the 'Fastest time to recite A-Z backwards', 'Most number of sushis eaten without the use of hands', 'Longest time-Skipping rope,' Fastest coin stack', 'Fastest time to build a 15-cup stack', 'Longest time-Plank position' and 'Fastest time to drink a bottle of soft drink'.
Story by Tanushalini Moroter
Pix by Law Suun Ting
Video by Alvie Cheng