THE art of rattan weaving is slowly being clouded in this 21st century, claims 60-year-old Ng Joo Long, a third-generation successor of the business in his family.
Rattan is used for a variety of purposes, more notably in the making of furniture, handicraft and building materials or construction tools.
Ng, who has been making rattan products for more than 40 years now, said he was happy for being able to carry the legacy of his family, going back all the way to when his grandfather officially started it many years ago.
Before his grandfather bought a lot in Bukit Mertajam in 1970 to run the business, Ng recalled the initial days when his family owned a shop in Sia Boey on the island.
"I started learning about making rattan products when I was ten. As a third-generation successor, I am proud to carry the family business on my back, but unfortunately, the younger generation these days has failed to understand the uniqueness in weaving rattans.
"Due to rapid developments surrounding us in this modern era, the young people, including my children, have resorted to technology and have their own jobs to protect.
"My three kids have no idea about the art of rattan weaving, and that's okay because I have no intention of forcing them to delve into something that's outside their interest.
"Besides that, the struggle is real as there are limitations of rattan supplies these days, and this is mainly because Bukit Mertajam is rapidly developing.
"Due to this challenge, I am left with no choice at times, but to purchase rattans from Pahang and other states, resulting in higher fees and cost for rattan," Ng told Buletin Mutiara during an exclusive interview at his shop in Bukit Mertajam recently.
As age is catching up, Ng said he no longer has the pace and strength to move fast while making the rattan products.
When asked if it was difficult to make furniture and other products made up of rattan throughout all these years, Ng said it wasn't hard for him, but the process of making the products requires a good amount of detailing, strength and hard work.
"It is normal to experience some pain, especially on our fingers when engaged in this process, but we have to know that nothing comes easy in life.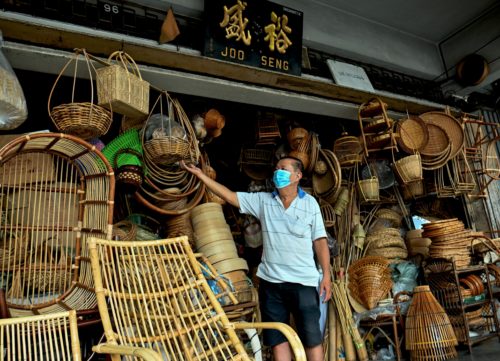 "As the saying goes, no pain, no gain. However, the art of weaving requires great amount of patience, skill and passion.
"Without these three attributes, it is difficult to see a good work at the end of the day. Patience because nothing works right at the first go as it would take time before you eventually see the fruits.
"Skill because when you work on something, you have got to have some flair to be able excel in it, and that comes with a lot of practice as well.
"And without passion, it's best not to venture into this business. It is not entirely a profitable approach, but with passion, you will do it with all your heart," Ng said.
Although number of rattan shops is decreasing, Ng said that this is an inevitable trend with the improvement of living standards and the declining supplies of wild rattan as well.
"I will keep doing it for as long as I can," Ng said.
Story by Kevin Vimal
Pix by Noor Siti Nabilah Noorazis