IT was sheer joy for Loh Pin Keat and his wife, Grace Gan, when their youngest son, Penang-born Kean Yew, became the first Singaporean to win a BWF World Championships title in Huelva, Spain, last night.
Unseeded Kean Yew, who is called Kelvin by his parents, defeated India's Kidambi Srikanth 21-15, 22-20 in a thrilling men's singles final that lasted 43 minutes. In fact, Kean Yew was ranked 22 in the world and Kidambi 14.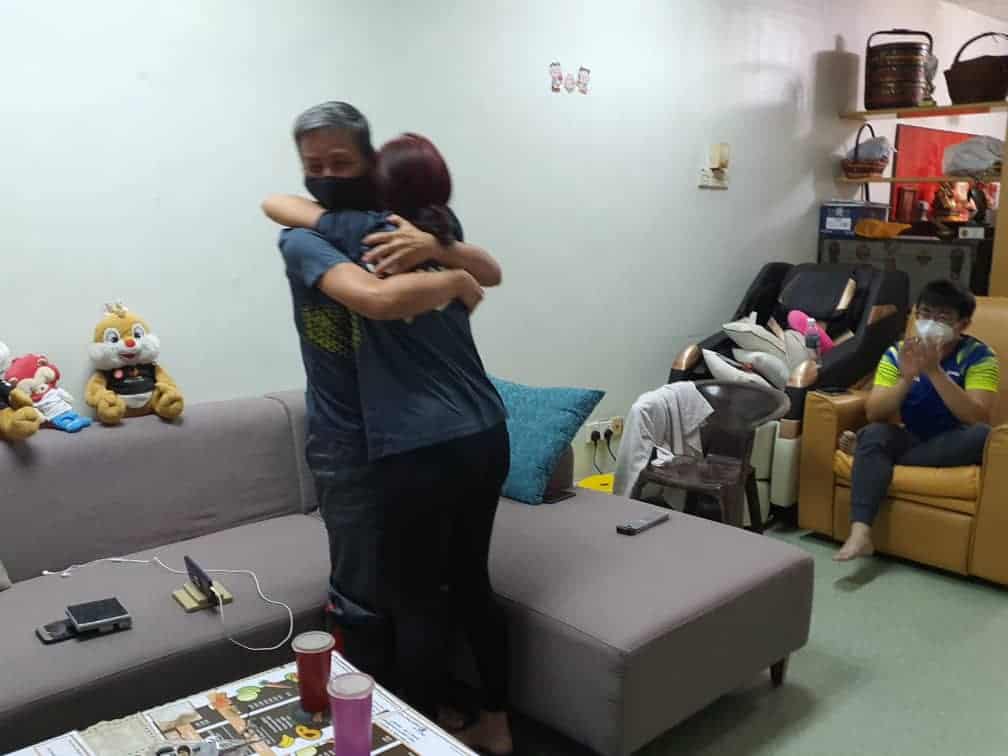 "We're super happy," Pin Keat, a 59-year-old construction site manager told Buletin Mutiara after his son's triumph at his single-storey terrace house in George Town.
"Kelvin was often very unfortunate to face formidable opponents in the first round of many tournaments because he was not seeded. But in this tournament, he grew in confidence."
Grace chipped in: "Finally, after all his hard work, it paid off. We're very proud of Kelvin. To be honest, I was very nervous to watch the final."
The couple were watching the live telecast together with their second son, Kean Wei, 30, an engineer with a semiconductor factory in Penang. All three donned T-shirts that Kean Yew had given them, with the words 'LOH K Y, SINGAPORE' printed at its back to show their support.
Kean Wei added: "My brother has improved a lot on his mental strength. I can see he is calm and composed, able to take the pressure now."
Life for Kean Yew, 24, the youngest of four sons, will be totally different from now on as he is Singapore's latest hero – just as Joseph Schooling was after beating his idol and legend, Micheal Phelps, for the 100m butterfly gold medal in the 2016 Rio Olympics.
Three of the four Loh siblings are working in Singapore. Besides Kean Yew, the other two are eldest brother, Kean Chye, 34, and third brother, Kean Hean, 26, a Singapore national doubles player.
Kean Hean is also a champion in his own right, partnering Terry Hee to win the men's doubles in the Dutch Open in October. It was a double joy for the Lohs as Kean Yew won the men's singles in the same tournament.
They both had taken up Singapore citizenship in 2015. That enabled Kean Yew to represent Singapore in the SEA Games where he won a bronze medal.
Kean Chye speaking to his mother Grace via a video call over the phone from Singapore after being overjoyed with Kean Yew's victory.
It was not an easy decision for Pin Keat and Grace to send both their two teenage sons to Singapore to study as well as play badminton. They were about 12 or 13 years old then.
"What made us send our children to Singapore was because of academic reason. We've to thank the Penang coaches for building their foundation.
"Our children were offered scholarships. This kind of opportunity come only once and we grabbed it because we're not rich to send them overseas to study. We never expected any of our sons to become a world badminton champion one day," Grace said.
Fortunately for the couple, Grace's brother, Teik Huat, 64, who is based in Singapore, helped care for the two young boys during their weekend break.
Kean Hean was the first to get a scholarship to study at Montfort Secondary School in Singapore. Montfort has a strong badminton team and one of their coaches is Wong Shoon Keat, who won Singapore's first ever badminton gold at the SEA Games in 1983.
Kean Yew then followed in his brother's footsteps a year later, after being offered a full scholarship to study in the Singapore Sports School.
When they were in Penang, the siblings' appetite for badminton was whetted actually by a neighbour who often played badminton with them using the house gate as the 'net'.
According to Grace , Kean Yew initially yearned to return home because he missed the family and also friends in Penang. But through her encouragement, Kean Yew stayed put and as time passed, he settled down with the help of the school teachers and mentors.
After completing four years of secondary education, Kean Yew then went to study at Republic Polytechnic.
But after two years, he decided to quit and instead, become a full-time badminton player.
"He was determined to turn pro and I finally agreed to it because an athlete usually has a short span of playing career. So, if he does not go for it when he is young, it may be too late for him. As for studies, he can resume it later if he wants to," said Grace.
Kean Yew is now under the wings of Mulyo Handoyo and Kelvin Ho.
His talent was evident when he took the Under-12 title in the National Junior Circuit Grand Final in Seremban in 2009, beating Lee Zii Jia in the final. Zii Jia is now Malaysia's top men's singles player.
His victory over badminton legend Lin Dan in the Thailand Masters 2019 made the badminton world sit up.
Last month, Kean Yew captured his first BWF World Tour Super 500 win when he beat Zii Jia at the 2021 Hylo Open.
Although he was world ranked 22, Kean Yew was a player on fire in this year's BWF World Championships.
He sent Olympic champion and World No. 1 Viktor Axelsen packing in the first round, avenging his defeat to the Dane in the Indonesian Open final.
Kean Yew proceeded to score victories over Austria's Luka Wraber, Thailand's Kantaphon Wancharoen, India's HS Prannoy and then overcame Denmark's world No. 3 Anders Antonsen in Saturday's semi-finals.
In the final against Kidambi, Kean Yew trailed 9-3 in the first game but came roaring back to win it 21-15 in 16 minutes.
Kidambi, executing some superb drop shots and cross court net play, led 9-6 in the second game. Kean Yew then bounced back again with some aggressive attacks to score six points in a row to lead 12-9.
From then on, both players fought point for point and the game could have gone either way. It, however, ended in Kean Yew's favour at 22-20.
Asked what advice he would give Kean Yew now that he is on top of the world, Pin Keat said he must keep his feet on the ground.
"He needs to remain humble, not get distracted or carried away with the victory and work harder to maintain his consistency," Pin Keat said.
Immediately after the match, their phones were inundated with calls and congratulatory messages via WhatsApp.
What a magical moment for the Loh family to cherish.
Story and pix by K.H. Ong