HAWKERS have played a crucial role in the growth of Penang, especially in the tourism sector, Chief Minister Chow Kon Yeow said.
He also said that besides being a preferred destination for tourists, Penang is also known for its diversity of delicious local food.
"Our hawkers are known for their great cooking skills, and their food attracted food lovers from near and far.
"The hawkers have a played a crucial role in boosting the tourism sector in our state.
"Penang is a food hub and hawkers are undoubtedly the major contributors to this recognition.
"We are happy that the Penang Island City Council (MBPP) has been keeping the tradition of appreciating the hawkers and their contribution alive through the annual Hawkers' Day celebration.
"I understand that MBPP has been celebrating this annually since 1983.
"I would like to strongly urge not only MBPP, but friends from the private sector, as well as Penangites, to continue supporting hawkers and their businesses," Chow said during a brief press conference at Chowrasta Market in George Town today.
Earlier, Chow and his entourage were seen distributing bags filled with aprons and face masks to the hawkers in Carnarvon Street. Then they rode trishaws to Chowrasta Market.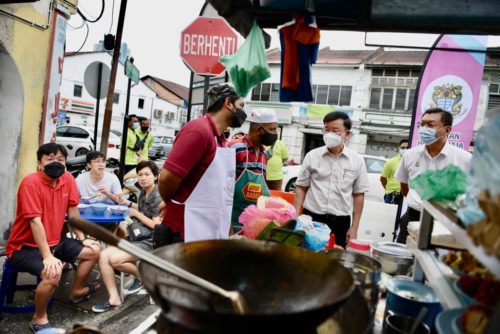 Meanwhile, MBPP Licencing Department director Rashidah Jalaludin said MBPP had already started several activities involving the hawkers since early December, and the activities are expected to continue until end of the month.
Among those present today were Komtar assemblyman Teh Lai Heng, MBPP mayor Datuk Yew Tung Seang and MBPP secretary Datuk Addnan Mohd Razali.
Story by Kevin Vimal
Pix by Muhamad Amir Irsyad Omar
Video by Alissala Thian