THE Penang Harmony Corporation (Harmonico) and its partners are holding the Penang Harmony Week 2022 this month to mark Harmonico's first anniversary and the United Nations International Day for the Elimination of Racial Discrimination.
Harmonico manager Paul Au said six programmes have been prepared for the Penang Harmony Week 2022.
"We are co-organising the events with our partners. The activities include outdoor activities, arts, exhibitions, performances, and a dialogue.
"Harmonico has decided to run the programmes in a hybrid mode (physical and online programmes) considering the rise in new Covid-19 cases.
The six scheduled programmes are I Am [email protected] Exhibition (9am to 6pm, March 12 to 20); Harmony in Art (9am to noon, March 19 and 20); Taoism Exhibition (10am to 3pm, March 17 to 20); Let's Talk – Interfaith Dialogue (8pm, March 18); Sound of Harmony (6pm to 8pm, March 20); and A Walk of Harmony (8am, March 21).
Most programmes would require interested participants to pre-register, and the 'A Walk of Harmony' programme is by invitation only.
Au said Harmonico hoped to create awareness among the public on the importance of living harmoniously with each other.
"Harmony is intangible and non-quantifiable. One can only experience it. We urge Penangites to build a harmonious Penang for our future generation," he said.
Penang Social Development and Non-Islamic Religious Affairs Committee chairman Chong Eng said the theme for the Penang Harmony Week 2022 is 'Fostering Harmony in Diversity'.
"I would like to congratulate Harmonico for initiating the Penang Harmony Week for the very first time. Harmonico intends to continue this initiative annually.
"This is the time for us to celebrate Penang's cultural diversity and foster community inclusiveness.
"Penang is one of the most vibrant multicultural places in the country. The Penang government acknowledges the need to foster and maintain its uniqueness," Chong Eng told a media conference in Komtar today.
Harmonico was established under the Penang Chief Minister Incorporated (CMI) last year to promote harmony and peace among the community in the state.
"Harmonico celebrated its first anniversary on March 10 this year. We thank the Chief Minister and the Board of Directors of Harmonico for their strong support. We also thank the Harmonico team for organising programmes and being the bridge between the houses of worship and the state government," Chong Eng said.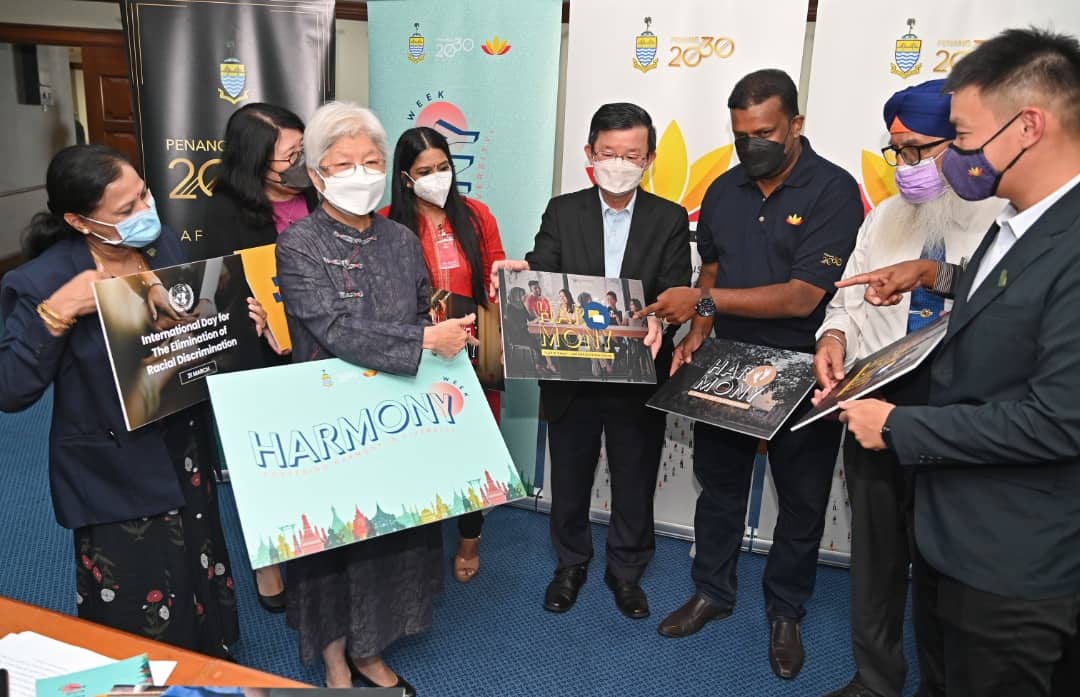 Chief Minister Chow Kon Yeow said Penang was blessed with a helpful community that always come together in times of need.
"We have seen various groups stepping forward to provide aid to the needy during the Covid-19 crisis. The aid was not just limited to financial, but also food, mental health, and counselling services.
"I congratulate Harmonico for its first anniversary. The Penang Harmony Week 2022 and Harmonico are testaments of the state government's commitment to fostering harmony and celebrating diversity in Penang.
"The Penang government has allocated an RM1.1 million budget for Harmonico to conduct its activities throughout this year," he said.
The partners for the Penang Harmony Week 2022 were AKK Culture Network, Studio Good Think, Me Sketch Studio (Azmi), Julian Kam Seng Yew (Lefty), Penang Women's Development Corporation, Arts-Ed, Masjid Kapitan Keling, Penang Global Tourism, The Temple of Fine Arts Malaysia, Penang Tourist Guides Association, Urban Sketchers Penang, Think City, Dogood Club, and Perbadanan Perpustakaan Awam Pulau Pinang.
For full programme details, visit www.harmonico.my/harmonyweek
Story by Christopher Tan
Pix by Ahmad Adil Muhamad
Video by Chan Kok Kuan