A STAFF member from the Land and District Office (northeast district), Nurshamshinaz Shamsuddin, emerged as the champion in the 14th Public Speaking Contest 2022 at Auditorium A on Level 5 in Komtar today.
Nurshamshinaz beat 12 other participants from various state government departments in a keenly contested competition.
The yearly public speaking competition was organised by the state Corporate Communication and Innovation Unit of the Penang State Secretariat.
Nurshamshinaz, who took part in the competition for the first time, said she could not believe that she was the eventual winner.
"I have zero experience in public speaking competition and never expected to become the winner. I just tried to do my best here. So, this result came as a surprise to me.
"My preparation also was done at the last minute. But since my presentation was on my best childhood memories and my own experience of growing up, I managed to deliver it naturally.
"For me, the key to win is that we must overcome our nervousness and remain relaxed on stage.
"That would help us tremendously to deliver what we had planned to do. I think that is the most important part of it," she told Buletin Mutiara when approached today.
As the winner, Nurshamshinaz took home RM400, a certificate and a Popular Bookstore voucher worth RM30.
The second and third placings went to Ainatul Mardhiah Idris and Nur Aqilah Aisyah Hamid, who were rewarded with RM300 and RM200 respectively.
Two consolation prizes were presented to Siti Jalila Zinda Madar and Khairiyah Ali. They won RM100 each.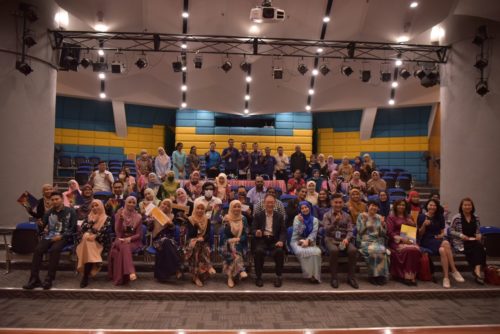 All contestants were also given an appreciation certificate and a Popular Bookstore voucher worth RM30 each.
Buletin Mutiara staff members Kevin Vimal and Tanushalini Moroter represented the Chief Minister's Office in the contest.
Tanushalini said although she did not win today, she gained a very good experience.
"It was a good exposure for me as I had the opportunity to overcome my stage fright.
"I also got to know the other contestants from various government departments and learn from them as well.
"They were also very encouraging when they saw I was nervous and offered some tips to overcome my apprehension," she said.
Meanwhile, Kevin said this year's competition was tougher as all the contestant were more prepared and motivated.
"For last year, the competition was done in virtual format and we just needed to send in our video recording. And I managed to get a second place.
"Nevertheless, I will never give up and will give a much better performance in next year's edition," he said.
Story by Riadz Akmal
Pix by Adleena Rahayu Ahmad Radzi