THE recent International Conference on 'navigating (un) sustainability' held at the Penang House of Music (PHoM) in Komtar saw over 60 participants presenting their research papers on popular music studies, ethnomusicology, performing arts and music education.
It was a fruitful collaboration between the International Association for the Study of Popular Music, Southeast Asia branch (IASPM-SEA) and the International Council for Traditional Music, Malaysia National Committee (ICTM-Malaysia).
The attendees comprised mostly Malaysian academics and postgraduate students based in public and private universities, including a sizeable number of their counterparts from across Southeast Asia (the Philippines, Indonesia, Thailand, Vietnam, Singapore), East Asia (Taiwan, Hong Kong, China), Europe, U.K., South America and the United States.
The conference title "(un)sustainability" aimed to address the complex approaches, ideas and challenges that are faced by arts scholars, educators, practitioners, government and industry in dealing with the sustainability of arts practices.
A recurring theme throughout the conference was the preservation of traditional music of indigenous communities, with presenters discussing whether such music should be adapted to modern types of performance or documented and preserved in their original form and style.
An example of the former is the recent adaptation of Malay wayang kulit (shadow puppet theatre) to popular culture (the Star Wars film franchise); while an example of the latter involved researchers working very closely with a community to document, stage and perform traditional performing arts such as makyong.
The conference also explored how popular music from the early 1900s in Asia could be preserved through archival materials such as old vinyl records, songbooks, films, and listings in old newspaper archives.
Presenters also looked at issues, such as state-policing of live music spaces, the role of women in music, challenges of university music education, new approaches to "artistic research," musical practices of migrant workers and diasporic communities, and the fluid cross-border connections of music across Southeast Asia, East Asia and beyond.
A wide variety of music genres were also explored, including heavy metal, rock, punk, hip-hop, reggae, jazz, Chinese traditional music, disco, morlum and ronggeng (to name a few).
More abstract, philosophical questions were posed throughout the conference.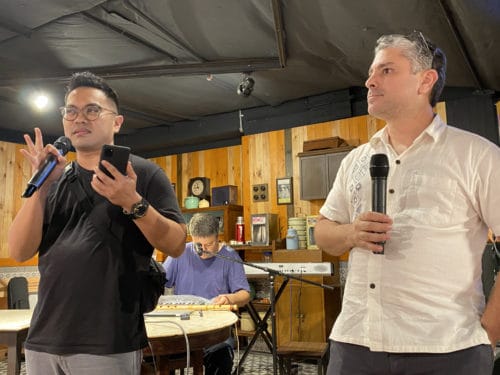 IASPM-SEA chairman Adil Johan emphasized the need for critical interventions about how 'tradition,' 'heritage,' and 'preservation' might be put into dialogue with 'popular culture,' 'creativity,' and 'archiving' and how digital technologies coupled with neoliberal capitalism affect (un)sustainability of arts archives, physical appearance spaces and educational approaches.
He also emphasised how PHoM was the perfect venue for the presentation of such ideas, encapsulating all the abstract concepts presented by music scholars "in a practical, actionable and tangible manner".
Paul Augustin, the founding director of PHoM, has over the years struggled and excelled, faltered and pivoted, and negotiated between being state-funded and an independent enterprise, with the chief mission of sustaining the rich and diverse musical heritage of Penang and the wider Southeast Asian region.
PHoM's most recent collaboration with PIQL, a digital-analog archiving specialist, has opened new possibilities (and questions) about how physical music artefacts might be sustained for posterity.
The overwhelming success of this conference has resulted in discussions for the next IASPM-SEA conference to be held in Thailand.
In the meantime, PHoM, according to Augustin, also plans to hold more engaging events that bring parties from government, NGOs, academics and practitioners to consider solutions and policy initiatives for preserving Malaysian arts and culture.
Pix courtesy of PHoM