UOW Malaysia KDU and INTI International College Penang have been riding on the virtual platforms to help their students familiarise with the campuses, and to increase student enrollment.
UOW Malaysia KDU Deputy Vice-Chancellor (Engagement) Assoc Prof Dr Brian Imrie said its virtual platform was overwhelmed on June 10, the same day when the SPM 2020 results were released.
"About 1,000 people visited our virtual platform on June 10. We have the 360° virtual open day experience, which is unique within Malaysia, where students can virtually explore the range of study options and view interactive video content on our website," he said.
UOW Malaysia KDU is part of the University of Wollongong (UOW) Australia global network. UOW is recognised among the world's top universities, and was recently ranked #193 in the QS World University Rankings 2022.
"To clearly communicate that we are part of the UOW global network, a global top 1% Australian institution, we have introduced a mascot 'Willis the Wallaby'. She is a cheeky, but nerdy, marsupial who is eager to invite new friends to join her as she hops around our Malaysian campuses.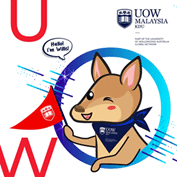 "Within Penang we not only have a George Town campus, but have recently opened a new campus within Batu Kawan adjacent to Design Village. Our experience is that students identify with Willis and are willing to join her," Dr Imrie said.
Dr Imrie said UOW Malaysia KDU is confident in getting a lot of enquiries from the school-leavers.
Its coming semester is starting in July, although students can also still be accepted into the May intake.
"We have been busy doing online branding during the Covid-19 pandemic to communicate our new identity as part of UOW.
"We have a new website, and are very much into social media, such as Facebook and Instagram," he said.
The message seems to be getting through, as Dr Imrie revealed that UOW Malaysia KDU's enrollment (between January and May this year) was 75% higher than it was during the pre-SPM result release period last year.
"It was a dramatic step up and we attributed it to our branding efforts," he said.
Dr Imrie said the Computing and Creative Media area of study is the most popular among students in Penang.
"We have noted growing interest in our new program – Bachelor of Software Engineering (Hons).
"The second most popular area is Business, and then we have our flagship Hospitality, Tourism and Culinary Arts dual award programs with the Swiss-based IMI.
"Within the current economic environment, the Hospitality, Tourism and Culinary Arts area of study is less popular.
"However, as Penang is a tourism and culinary hub and many people have left the industry, it is the ideal time for students to consider this study option. It is a real strength of the institution.
Dr Imrie said there were several other areas of studies which are gaining interest from students, namely, Game Development, Built Environment and our fully-sponsored Diploma in Nursing.
"Engineering is very important for Penang, with plenty of jobs available, but the interest among students is still 'flat'.
"Engineering is an excellent career option within an uncertain world, so we are optimistic that the student numbers will grow in this area," he said.
He added that UOW Malaysia KDU is offering RM10 million worth of scholarships this year, although the private higher education sector really struggled due to the pandemic.
"We believe in making an international standard education accessible, and so have retained our commitment to offering scholarships and financial aid during these challenging times.
Dr Imrie said many families had benefitted from its HOPE Bursary, where tuition fee waivers (50-100%) are awarded to deserving candidates who require financial aid to pursue higher education.
Meanwhile, INTI International College Penang chief executive Hemalatha Murugiah said the college had conducted many sharing sessions, workshops, and webinars to provide students an insight of what learning is like at INTI, especially on its hybrid mode of teaching.
"INTI is known as a pioneer in online learning as we have been using Blackboard, a full-featured Learning Management System (LMS) for years.
"In addition to this, our faculty is also well-trained to support online classrooms. We are excited to welcome new students into our INTI family," she said.
Hemalatha said the college is still in the process of recruiting students.
"There is a delay in students enrolling into tertiary education this year as compared to past years, in which most of the students enrolled in the March or April sessions.
"This is due to the postponement of the SPM 2020 examination dates to March 2021 and subsequently the release of results in June 2021," she said.
She added that the college had been receiving calls and enquiries from students and parents pertaining to its programmes since early this year.
"We have converted our orientation sessions into virtual ones since the pandemic impacted the education system in 2020.
"In fact, the attendance for our e-orientations have exceeded that of physical orientation sessions conducted in the past.
"For these e-orientations, we carefully embed important topics into interesting and effective videos for our new students.
"Some topics are also shared live by the respective departments and the recordings are available in the portal for students to re-watch or catch up on sessions that they may have missed," she said.
Hemalatha said new students at INTI would go through blended learning workshops during the orientation week.
"Our faculty members as well as our Teaching & Learning Department will conduct these workshops for students.
"In addition to this, there are some effective early intervention tools that INTI uses to gauge the students' understanding and performance in class and subjects.
"Analytics is used to enable lecturers to carry out early intervention initiatives to support any student who may be facing challenges," she said.
Hemalatha said there are other ongoing initiatives such as sharing sessions, webinars, meetings with Head of Programmes, and feedback channels, which aimed at providing students the support they need throughout the semester.
"We prepare our counsellors to not only be able to do virtual counselling, but also to walk through our Learning Management System with the new students.
"We will arrange special counselling sessions with the faculty if the students need further explanation on specific subject matters," she said.
She said students who chose pre-university studies (in order to study abroad) have constantly taken up its A-Level programme.
"Students are also enrolling themselves in our Foundation programmes.
"Our Business, IT and Computer Science Diploma programmes have always seen high enrollment numbers.
"We also offer other programmes such as Engineering, Culinary Arts, and Hospitality," she said.
Hemalatha welcomed the students to reach out to the college counsellors for more information and details on the various financial assistance available.
"Under the INTI Cares scheme, we have increased the number of scholarships and bursaries that are available to students," she said.
Story by Christopher Tan
Pix by Law Suun Ting and courtesy of UOW Malaysia KDU and INTI International College Penang