TWO retention ponds near Solok Van Praagh residential area in Jelutong have been successfully built to tackle flood woes.
State Transport and Infrastructure Committee chairman Zairil Khir Johari said the project is part of Penang government's flood mitigation plan for the neighbourhood.
"This project is actually the phase one of our (state government) flood mitigation initiatives for this neighbourhood which is a flood prone area.
"The project also involved widening of internal drainage and building of box culverts. We have also relocated road furniture and widened the road.
"The whole landscape has been beautified with an inclusion of jogging track as we wanted a wholesome development," added Zairil, who made a site visit to Solok Van Praagh this morning.
Zairil said the second phase would involve a bigger project, which is the construction of an underground retention pond.
"In order to make a comprehensive flood mitigation plan, we intend to build an underground retention pond here.
"The state Drainage and Irrigation Department (DID) has appointed a consultant on Nov 3, 2020 to conduct a research and to come up with the design of the underground retention.
"The completion of the underground retention pond would take a longer period and that is why we have built these retention ponds as a short-term solution for the flood issues in this area.
"The project concerning the underground retention pond is actually the first of its kind in Penang.
"It would be instrumental in rectifying flood woes not only within the neighbourhood of Solok Van Praagh but a wider area such as the Jalan Van Praagh, Jalan Teh Ewe Lim and Jalan Sir Ibrahim.
Meanwhile, Batu Lancang assemblyman Ong Ah Teong said the newly-built retention ponds have helped to limit flooding during downpours.
"Recently, despite the downpour, the area was not flooded heavily. Only the roads were flooded unlike in previous years where water would enter the houses here.
"In  2019, the residents here encountered the occurrences of flood for almost 12 times," added Ong, who was also present, during the site visit.
According to Penang Island City Council (MBPP) Engineering Department director Rajendran Anthony, the project, which commenced in January 2020, was completed in October 2020.
Also present was the state DID representative Ooi Soon Lee.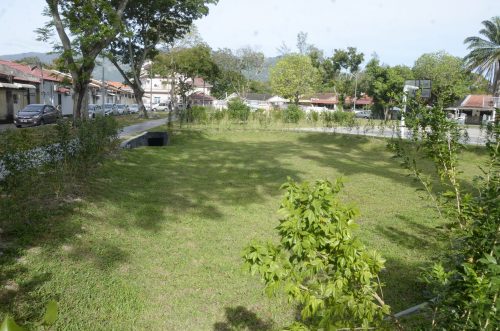 Story by Tanushalini Moroter
Pix by Chan Kok Kuan