WITH the Covid-19 cases rising alarmingly in the state, the Penang Island City Council (MBPP) embarked on a prevention and early community response programme in PPR Jalan Sungai, George Town, today.
The pilot programme involves the training of 15 residents from the low-cost housing scheme in Sungai Pinang on how to use an RTK-antigen test kit and a pulse oximeter the proper way so that they could become 'Skuad Lawan Covid' or Covid busters.
PPR Jalan Sungai, which has over 500 units, is considered as one of the Covid-19 hotspots in the state.
MBPP mayor Datuk Yew Tung Seang thanked the Penang Women's Development Corporation (PWDC) and the state Heath Department (JKN) for their cooperation, and the Sungai Pinang service centre for their support in helping to carry out the programme for the community.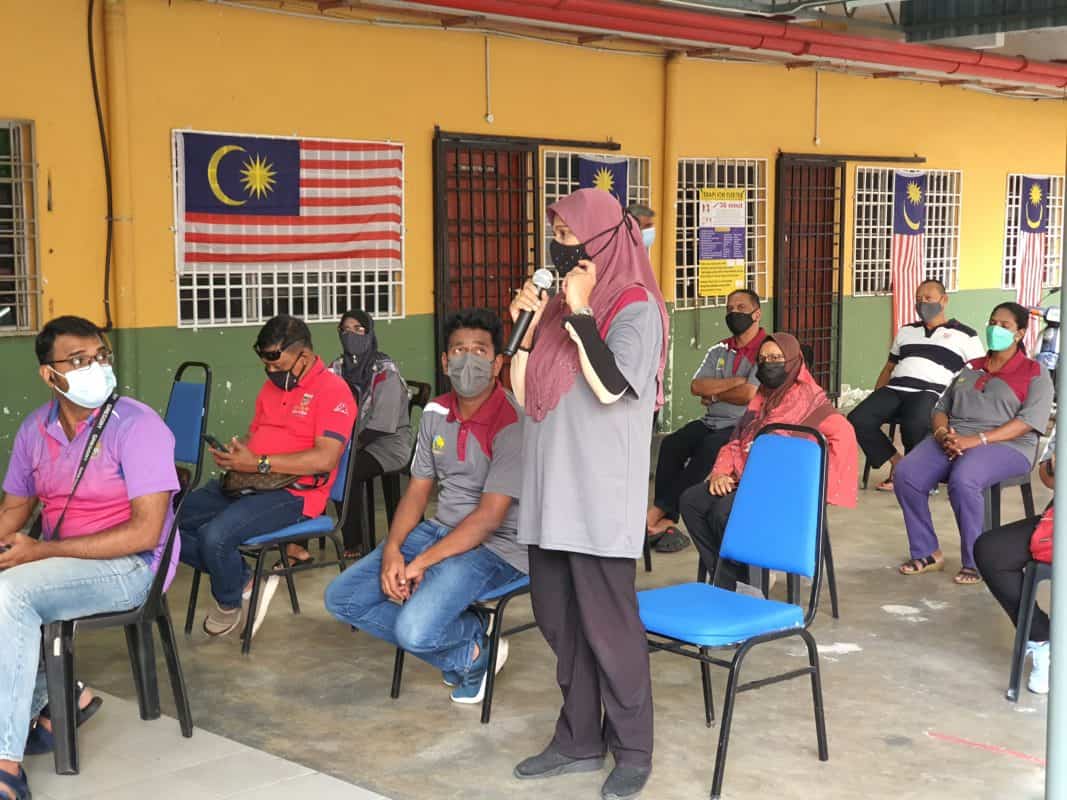 "For the beginning today, MBPP is donating 500 RTK-antigen test kits, 20 oximeters and two temperature scanners to the community here.
"This MBPP's pilot programme, with the cooperation of PWDC and JKN, involves the power of the community.
"Asking the people to abide by the SOPs is one thing, but it will be more effective if the public knows how to face the Covid-19 challenges.
"For the beginning, we have 15 of them (residents) trained under a JKN officer like on how to use the self-test kit and also taught about other related Covid-19 issues.
"We want to equip them with knowledge and also want them to take responsibility. They are trained to be Covid busters to help others. We hope to extend this initiative to other hotspots," Yew said in his speech.
Also present were Sungai Pinang assemblyman Lim Siew Khim, PWDC chief executive officer Ong Bee Leng, northeast district Health Office health education officer Nazirah Gulam Mohamed and Global Edge Parma director and consultant pharmacist Bharati Suresh Chand.
Lim said the 15 Covid busters, who are mostly members from the MPKK  (Village Community Management Council)  and JPWK (Women and Family Development Committee), would play an important role in the success of the project.
"It's not an easy job but you are committed. That is important. You are our ambassadors.
"After having learned the dos and don'ts, you are to share the information with others and help the community with love in your heart," Lim said.
Ong said apart from RTK-antigen test kits and oximeters, MBPP would also provide gloves and PPEs.
"It is important that we not only provide them information but also equip them with equipment.
"This is a very holistic approach, empower the community with knowledge and equipment.
"Although we are called the Penang Women's Development Corporation, what is more critical now is  both men and women are involved.  That's why we have men and women as trainers.
"The idea is to create awareness using whole of society approach," Ong said.
Nazirah briefed the trainees on what to do if a person is Covid-19 positive, a close contact or stays in a high-risk area.
She then had a very interactive question and answer session with the participants.
Then Bharati demonstrated the right way to use the self-test kit and oximeter, step by step as the trainees followed her enthusiastically.
To get an accurate reading, for instance, she said users cannot smoke, gargle salt water, brush teeth or eat 30 minutes before using the test kit.
Story by K.H. Ong