TO combat the rise of Covid-19 cases in Penang, the Penang government, together with the Community Emergency Response Team (CERT) George Town, had set up a Covid-19 support team in Paya Terubong, to assist Covid-19 patients under Category One, Two and Three there.
State Tourism and Creative Economy Committee chairman Yeoh Soon Hin said through this team, individuals who tested positive for Covid-19 would be provided with pulse oximeters to monitor their oxygen levels while undergoing home quarantine.
"If a patient's condition turns bad, the support team will stabilise his or her condition by providing oxygen supply while waiting for the arrival of the ambulance.
The support team consists of members from St John Ambulance (northeast district), Paya Terubong Village Community Management Council (MPKK), Women and Family Development Committee (JPWK), Paya Terubong Civil Defence Emergency Response Team (CDERT), Sungai Ara Community Ambulance and Gleneagles Hospital Penang.
"By forming the support team, we are able to assist in monitoring patients undergoing home quarantine, provide necessary medical and psychological assistance, ultimately also easing the burdens faced by the state Health Department," Yeoh said during a press conference at the Dewan MPKK in Paya Terubong today.
Yeoh, who is also Paya Terubong assemblyman, said ever since the outbreak of the pandemic last year, his service centre has been active gathering resources from both the private and public sectors, as well as non-governmental organisations (NGOs), to assist badly affected families.
"With this, I hope more organisations can join this initiative, so that we can set up more of such teams in other locations," Yeoh added.
Meanwhile, Sungai Ara Community Ambulance operations manager Raminder Singh said a total of two main vehicles (van and ambulance) had been prepared to assist Covid-19 patients needing assistance in the Paya Terubong area.
"The ambulance is used to attend to patients under Category Three and Four, while the van is used to transport patients to Low-Risk Covid-19 Centres (LRRCs).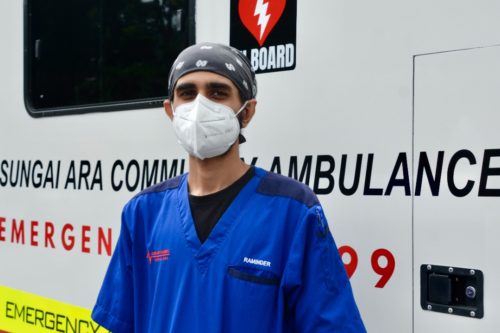 "There are about 15 members under my team, and they are all well trained to handle ambulances," he said during a brief interview session.
Raminder also added that apart from the two main vehicles, private cars were also arranged to assist in this initiative.
Story by Kevin Vimal
Pix by Law Suun Ting