LOCATED far away from hustle and bustle of the city life and filled with the beauty of flora and fauna, Karuna Hill in Balik Pulau truly promises an unforgettable experience to its visitors.
The hill has become a popular tourist attraction since New Yorker Carl Michael Valenti, and his Penangite wife, Li Lian Teh, run the hill 12 years ago.
Valenti, a former senior vice-president at Dow Jones, and Lillian, a former chief flight attendant at Singapore Airlines, acquired some 12 acres of former orchard land there to build a retirement lodge for themselves and then added four chalets for the public to rent.
"It is a special place for our guests to appreciate and experience stunning sunsets and starry nights with their loved ones.
"After all, it is an ideal and perfect sanctuary for quiet quality time and inner reflection.
"Initially, my wife and I planned to turn the land into a lovely retirement lodge for ourselves while enjoying some durians from the trees planted on the land.
"But then, during the construction of the lodge, we decided to add four chalets and open them to the public for a staycation.
"We did almost everything with the help of local artisans from the landscaping, architecture, interior design of all the four chalets and also the roads here.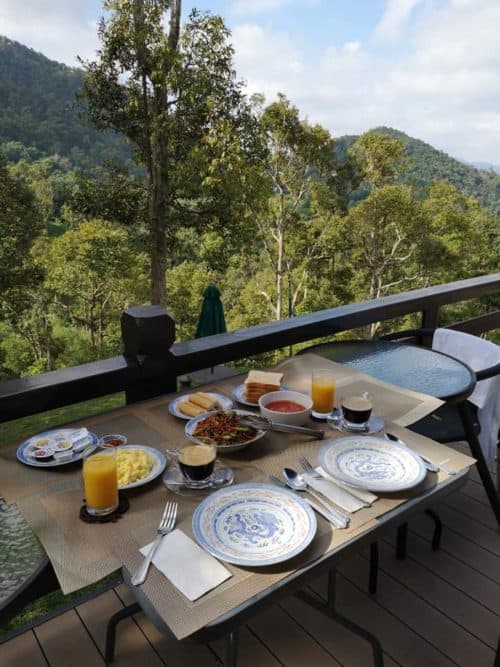 "Our main intention is we want to transform the place into an ideal getaway for everyone especially to those who love the fresh air, verdant environment and abundance of fruit trees, especially durians that could be found at Karuna Hill," Valenti told Buletin Mutiara during an exclusive interview recently at the hill.
Valenti said the four chalets were named as Indriel, Lhamo, Astara and KuTumba.
"They were named after angels and Tibetan Buddhist deities by my wife, reflecting her spiritual beliefs.
"All the chalets also are equipped with intimate spaces with attached bathrooms, jacuzzi and other comforts as well," he added.
According to him, the guests at Karuna Hill also can have a tour of the property in a golf cart driven by himself, as part of a tour of the grounds during their staycation.
"From there, they can enjoy the beauty of flora and fauna at Karuna Hill at close view.
"We also have a large event space and games room at the peak of our property that can also be used by the visitors for any activities.
"There are also various types of durian trees that can be found here such as Black Thorn, Musang King, Red Prawn, Hor Lor, Tekkah and many others," Valenti said.
To book a staycation or to know more about the packages provided at Karuna Hill, the public can call Valenti himself at 016-441 0808.
Story by Riadz Akmal
Pix by Adleena Rahayu Ahmad Radzi