THE Old Xaverians Association (OXA) celebrated its 95th anniversary dinner with much joy and fun, and also a thought for the needy.
Pulau Tikus assemblyman Chris Lee Chun Kit, who represented Chief Minister Chow Kon Yeow at the dinner, presented cheques on behalf of OXA to nine charitable organisations and also the St Xavier's Institution.
The recipients were the Penang Shan's Home, Penang Cheshire Home, Spastic Children Association of Penang, St Nicholas Home, Children's Protection Society, National Cancer Society of Malaysia (Penang branch), Special Children Centre (Penang), Persatuan OKU Al-Bukari, the Lighthouse. Each was given RM2,000.
"I must commend OXA for not forgetting your corporate social responsibility, notably in the area of giving back to society in the form of annual donations to the various charities and education grants to junior members to pursue their further education," said Chris while reading Chow's speech at Lot 33 in Prangin Mall on Nov 9.
"This exemplary attribute is one of the hallmarks of a true Xaverian, the charitable spirit inculcated during the students' days in school, under the guidance of the La Sallian Brothers."
Chris, who is an old Xaverian himself, said the Alumni of Schools could combine their resources to provide necessary training relevant to Industrial Revolution 4.0 (IR 4.0).
He said it was also important to retain talent to help advance Penang to be an intelligent state.
"Basically, Xaverians are very passionate people who hold dear to certain values.
"We grew up with certain values that made us very principled. As Xaverians, we are also natural rebels. A lof of politicians from here came from SXI.
"We have the capability of grooming the next generation. We must go forward, never give up but fight to create a better Malaysia.
"Xaverians can be trend setters. We bring up our children with certain values that encourage them to speak out against injustice."
OXA president Khoo Khay Seang said apart from the donations to the charitable organisations, the association has been sponsoring RM1,000 every year for the OXA Excellence Award for SXI.
He added that this year, OXA has extended its sponsorship of RM1,000 each for OXA Excellence Award to two primary schools – St Xavier's Branch School and St Xavier's Primary School.
Khoo said last year, OXA contributed RM300,000 to St Xavier's branch school. The school had completed its new building and as a tribute to OXA's contribution, named its hall as 'Old Xaverians' Association Hall'.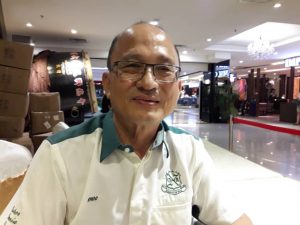 Knowing that quite a number of its OXA members are in the 50s and 60s, Khoo said they started to arrange for annual subsidised health checks for all their members since last year.
Because of its popularity for these two years, he said the health check programme would be continued next year.
Khoo, in his speech, also thanked the association's pioneers for making good decisions on acquiring their own building. About 500 people attended the dinner.
"When OXA started in 1924 by the first president Mr Lim Cheng Ean, the association had no permanent premises. Eventually, in the late 1960s, the association purchased its own building at 50 Perak Road, Penang," he said.
He said OXA, which has been renting a building in Pulau Tikus, would be moving back to its own building at Perak Road next year after the tenancy of a nursing home has expired.
"The present place we are renting is too small. So, we want to move back to provide more facilities for our members," he said.
Story by K.H. Ong