A SECTION of the Bukit Kukus paired road project under the Penang Island City Council (MBPP) is expected to be officially open to road users on Jan 13 this year.
Chief Minister Chow Kon Yeow and state Transport and Infrastructure Committee chairman Zairil Khir Johari, together with MBPP mayor Datuk Yew Tung Seang and MBPP secretary A. Rajendran, visited the project site today.
Zairil said MBPP had already completed its portion of the construction works recently.
"We are happy that finally a section of the project is 100% completed after six years in construction.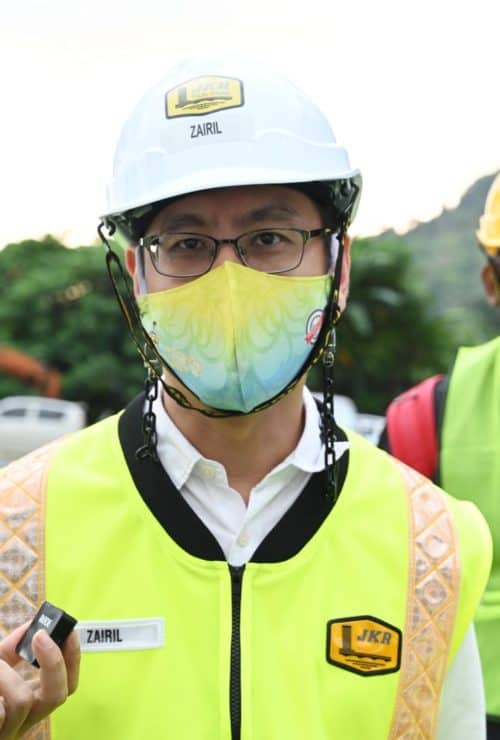 "It has been delayed for a few times due to the landslide incident, the Covid-19 lockdown and some technical issues involving additional works.
"Nevertheless, it has been completed now. We hope this iconic project will be able to solve traffic congestion at a rate of up to 30%.
"At a height of 55m from the pile caps, is the highest elevated highway in the country.
"Thus, this project is the state government's legacy for the people of Penang.
"Hopefully, it will bring many benefits to the road users, especially residents of Balik Pulau, Paya Terubong and nearby areas," Zairil told Buletin Mutiara during a site visit today.
The 5.5km paired road project, costing RM545.6 million, consists of three sections. It connects Paya Terubong and Relau.
The state government, through MBPP, is responsible for the construction of a 3.3km stretch that costs RM275.6 million.
Meanwhile, two more developers, PLB Land Sdn Bhd and Geo Valley Sdn Bhd, are responsible for the remaining 1.4km (RM150mil) and 0.8km (RM120mil) stretches respectively.
According to Zairil, the other two portions by the private companies would not be ready this year.
"PLB Land's section is expected to be completed in 2025.
"Meanwhile, for Geo Valley's section, the completion date is unknown due to an ongoing court case but they will do their best to expedite the project," he added.
Story by Riadz Akmal
Pix by Chan Kok Kuan
Video by Law Suun Ting