PENANG celebrated the International Day of Peace with the official launch of the virtual 'Cycle the World, Cycle for Peace' programme by Governor Tun Ahmad Fuzi Abdul Razak and a strong message from state executive councillor Chong Eng that 'peace starts from home'.
Chong Eng, who is in charge of Non-Islamic Religious Affairs and Social Development, said participants are given 21 days, starting from today (Sept 21) to Oct 11, to cycle a total of 40,075km – equivalent to the circumference of the globe.
She said this year is the first time the Penang government is celebrating the event in a very meaningful day, especially during the Covid-19 pandemic, so that the public could be reminded of the importance of personal and national peace.
She said she used to be cynical when people talked about world peace, questioning herself how an individual could stop a war.
But she said the 'Safe Family Policy' that the state government started in 2020 talked a lot about domestic violence and the importance of peace at home.
"If there is violence at home, there is no peace and we cannot be happy.
"Marriage may be broken up and this will create a lot of social problems. Children are hurt and some of them are gravely affected by violence at home.
"Everyone can participate to have peace at home. When there is peace at home, there is peace in the community, peace in the state and peace in the country," Chong Eng said at a press conference from the Penang Harmony Corporation (Harmonico) in Scotland Road.
Stressing that world peace starts from the family, she said if love is lost, problems will begin and disaster is going to happen.
She then quoted what Mother Theresa once said: "What can you do to promote world peace? Go home and love your family."
Chong Eng added that she would get more non-governmental organisations and other bodies to come together and help promote the 'Peace Starts from Home' concept.
Additionally, she said she would work with Deputy Chief Minister II Prof Dr P. Ramasamy, who is in charge of economy, to promote the idea among the factories, including having a support system like providing counselling services.
"Employees will not be able to focus on their job if there is domestic violence. This will reduce productivity.
"We also want to prevent divorces. To reduce marriage problems, we must have love and peace starting from the home," Chong Eng added.
From 2014, she said the Penang government, through the Penang Women's Development Corporation (PWDC), has been organising annually the 'Penang Go Orange' programme to stop domestic violence.
Chong Eng also thanked Tun Ahmad Fuzi for showing interest and supporting the Peace21 programme, 'Cycle the World, Cycle for Peace'.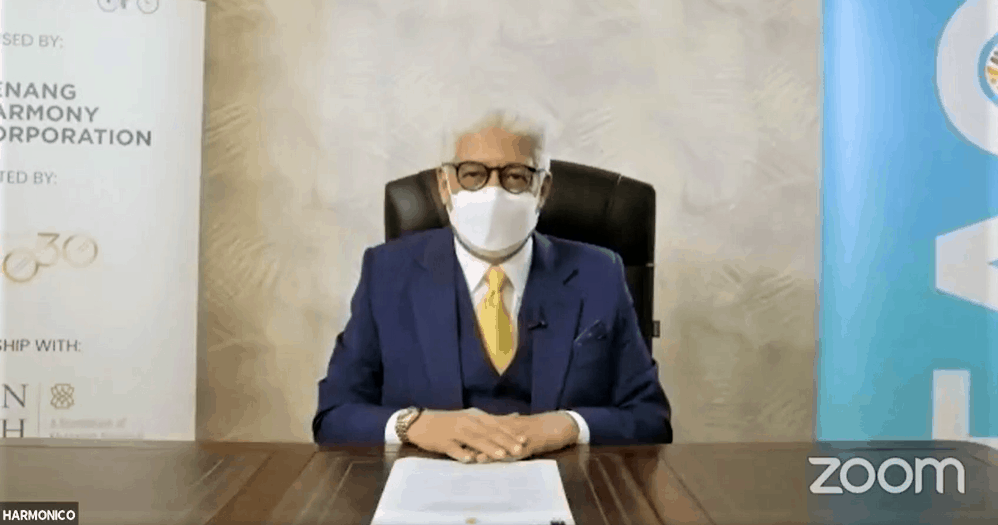 Tun Ahmad Fuzi, in his speech, said the cultural, racial and religious diversity in Malaysia is an asset for the country.
"I am proud that the state of Penang has taken proactive steps to organise the peace initiative in conjunction with this meaningful day.
"I hope Penang will be a role model for promoting peace and harmony in Malaysia," Tun Ahmad Fuzi said.
Tun Ahmad Fuzi added that International Day of Peace inaugurated by the United Nations in 1981 has been celebrated every year on Sept 21, as a day without violence.
This year's theme is 'Recovering better for an equitable and sustainable world'.
"The theme is very much in line with the Covid-19 pandemic situation we are facing right now.
"Therefore, let us work together, to restore our country with compassion, kindness and hope as well as joint efforts to oppose terrorism, either physically or virtually.
"Peace is a journey of a thousand miles and it must be taken one step at a time. This is the quote from Lyndon B. Johnson, the 36th president of the United States," Tun Ahmad Fuzi added.
As the day coincided with the Mid-Autumn Festival, Tun Ahmad Fuzi took the occasion to end his speech with "Zhong qiu jie kuai le" (Happy Mid-Autumn Festival).
Penang Harmony Corporation manager Paul Au said all the participants are considered peace ambassadors (PA), and Tun Ahmad Fuzi was given the honour with the registration number PA001.
He said participants can ride on their own, anywhere and anytime to contribute towards a collective goal of covering the equatorial circumference of the earth, measuring at 40,075km in total.
The registration fee is RM30 and the ride period is from Sept 21 to Oct 11.
Those who cover 21km are entitled to e-cert, and those who cover 21km and above per week are eligible for lucky draw on Sept 8, Oct 5 and Oct 12.
Au added that there would a Peace Champion Award for the most distance covered in total, with the top five finishers winning RM500, RM400, RM300, RM200 and RM100 respectively (in the form of TNG E-wallet credit).
He said there would also be a Peacemaker Award for best photo and caption with the winner taking home RM500 (TNG E-wallet credit). The other prizes are as follows: Best photo consolation: 3 x RM300 TNG E-wallet credit, Best caption consolation: 3 x RM300 TNG E-wallet credit and most likes Instagram: 2 x RM100 TNG E-wallet credit.
For more details about the virtual 'Cycle the World, Cycle for Peace', visit www.harmonico.my/peace21.