THE Penang Badminton Association (PBA) has recently resumed training its state players as well as renting out its courts to the public at the PBA hall in Bukit Dumbar.
PBA president Datuk Kah Kau Kiak said they are ensuring strict compliance with Covid-19 protocols while welcoming back the players.
"Under the latest standard operating procedures (SOPs), those who want to use the court must be fully vaccinated.
"But for Under-18 players who have not been vaccinated, they must be accompanied by either one of their parents who themselves must be fully vaccinated.
"We also need to adhere to social distancing. So, each court is limited to six persons," Kah explained.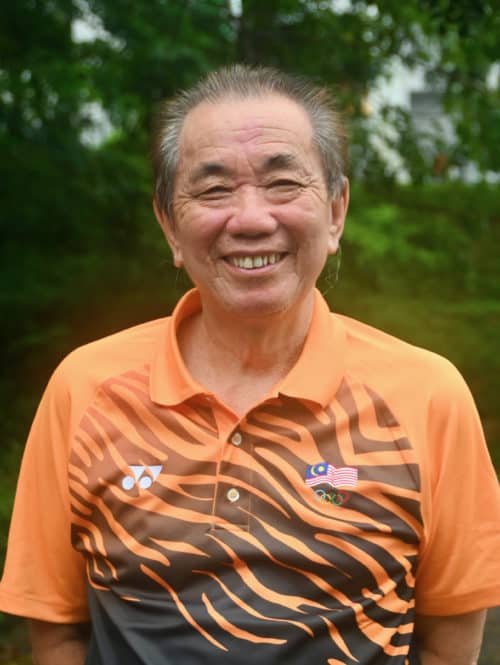 Even though PBA or other badminton academies are allowed to operate since last month, Kah said many parents and factories are not taking chances by allowing their children and workers respectively to play the game.
"They don't want to take the risk and we cannot blame them. The factories don't want their workers to get infected and then pass it on to other employees at work.
"PBA has a pool of 70 players but we have now only a 20% attendance for training," said Kah during an interview at the PBA hall yesterday.
He said since the movement control order (MCO) started in March last year, PBA has gone through a lot.
Virtual training during the several lockdowns, he said, was not really effective and the players' standard of play has gone down.
Kah said what is affecting PBA most during the ongoing Covid-19 pandemic is having virtually no income from court rental as the hall has to be closed most of the time.
He is, however, thankful to the Penang State Sports Council, the state government and Badminton Association of Malaysia (BAM) for providing some subsidies, and also to former sponsor Gosen for 10 years of sponsorship and current sponsor Yonex for signing an MoU with PBA with a sponsorship of RM1.2 million for three years from last year.
He said the monthly expenditure of over RM30,000 has taken a toll on the association, having to pay for the salaries of four coaches, clerk and cleaners and also for the maintenance works and utility bills.
"Penang is famous as a badminton powerhouse and has produced several great players. We want to continue this tradition.
"For next year, we plan to hold six to eight tournaments for different age groups, junior and Closed," he said.
The PBA hall, which has nine courts, is one of the three training centres for the state players. But the second centre at the Penang Badminton Academy (six courts) in Jalan Kaki Bukit is temporarily closed because of leaking roof. A team from Penang Public Works Department (JKR) came to inspect the building yesterday.
PBA had already stopped renting its third training centre in Bukit Mertajam to cut cost due to the MCO.
Penang chief coach Razlan Abdullah said the players are still not fit yet and basically, the training which began since Sept 15, was to help them regain their fitness.
"We don't push them too hard yet. One of the girls, for instance, just got vaccinated one week ago only. By and by, we want them to get back their skills and touches.
"Right now, we're not very strict on attendance because of safety concerns," Razlan said.
Razlan and his assistants Goh Giap Chin and Lim Ru Guat are conducting two training sessions per day from Monday to Friday for the state players.
Twins Yeoh Covy and Yeoh Jovy, 12, said they are happy to be back training with the team.
"We miss our friends and sparring sessions," said Covy, a pupil of SJK (C) Sum Sun.
Over at Bandar Baru Air Itam, badminton coach Ng Kam Fook, who has been running the Kam Fook Badminton Academy for the past 24 years, said even though there was no badminton cluster, he made sure all players comply with the SOPs seriously.
"I don't allow them to wear their slippers on the court. I will do all the disinfecting myself, spraying their shoes and bags. I also check whether they are low-risk or not from their MySejahtera app.
"Those Under-18 have to be accompanied by their parents. They must mask on except when they are in training.
"I conduct one on one training and every night after the training session, I will disinfect the playing area and the toilets," Kam Fook said.
He thanked Paya Terubong assemblyman Yeoh Soon Hin for his support and getting his rental fees waived by the Penang Island City Council (MBPP) during certain times of the lockdown.
Kam Fook, who had over 100 players under his wings before the Covid-19 pandemic, now has about 20 players rejoining the training.
Among them are two South Korean siblings – 10-year-old Hyunhoo (Leo) and eight-year-old Minhoo (Theo).
Those interested to find out more about Kam Fook's training session can reach Kam Fook at 0124259146.
Story by K.H. Ong
Pix by Alissala Thian