Story by K.H. Ong
Pix by Ahmad Adil Muhamad
A HUSH fell over us as the boatmen skilfully manoeuvred their sampan with long sticks to the riverbank and stopped.
About 150 metres away, on the opposite side, were three wild elephants.
One adult elephant was using her trunk to douse sand on two calves as well as herself. We were told that although their hide looks tough, they often put mud on themselves to protect their sensitive skin from the sun's rays.
It was a sight to behold for the 17 of us who took part in the three-day, two-night Ulu Muda Media Advocacy Trip on March 15-17.
Organised by Watch Water Penang (WWP) and the Management & Ecology of Malaysian Elephants (MEME) and sponsored by Yayasan Hasanah, the trip was aimed at highlighting the importance of Ulu Muda Forest Reserve's biodiversity and ecosystem services, its beauty and the need to protect the forest reserve.
I could see the excitement on the faces of my three other colleagues from Buletin Mutiara – reporters Norshahida Yusoff and Joanne Foong Chee Yin and photographer Ahmad Adil Muhamad – for their first-time encounter with wild Asian elephants.
A fleet-footed Adil, like the other photographers, quickly got out of the sampan for closer shots from a fairly safe distance. What a golden opportunity!
As we were watching the mammals' movements, another sampan with its engine running and two fishermen onboard, also came downstream. When they realised what we were doing, they switched off their engine. But it was too late. The elephants, troubled by the sound, slowly slipped into the forest.
We went further downstream, and lo and behold, there was a herd of elephants – three adult female, three calves – moving deeper into the forest. Following them was a male elephant. A cracking sound was heard as the bull ripped off a tree branch. He ate the leaves before disappearing into the forest with the rest.
"You were all very lucky to see elephants twice on your first day," quipped Hymeir Kamarudin, who runs Earth Lodge, where we stayed in the forest reserve.
"We try to make sure that people who come here are people who are interested in nature. If you are not a nature lover, you will get bored here. And you will go back complaining.
"We've basic facilities but they are comfortable. You've to pay to come here and it's for those who don't mind some hardship."
It took us about 90 minutes to travel by sampan across the Muda Lake up to the Muda River and then to Kuala Labua where Earth Lodge is situated.
All sampan arrived within minutes of each other except for the one carrying New Straits Times writer Elena Koshy and veteran journalist Sharaad Kuttan from Astro Awani.
Their sampan got stuck in the mud and they had to help their boatman Ghani push it to deeper waters.
Due to the current dry spell, the river is shallow and you could see the sand a feet or two below the boat. It was not like that when Hymeir first came to the Muda River in the 90s. And he believes that the sand slowly drifted down from logging that started 50 years ago.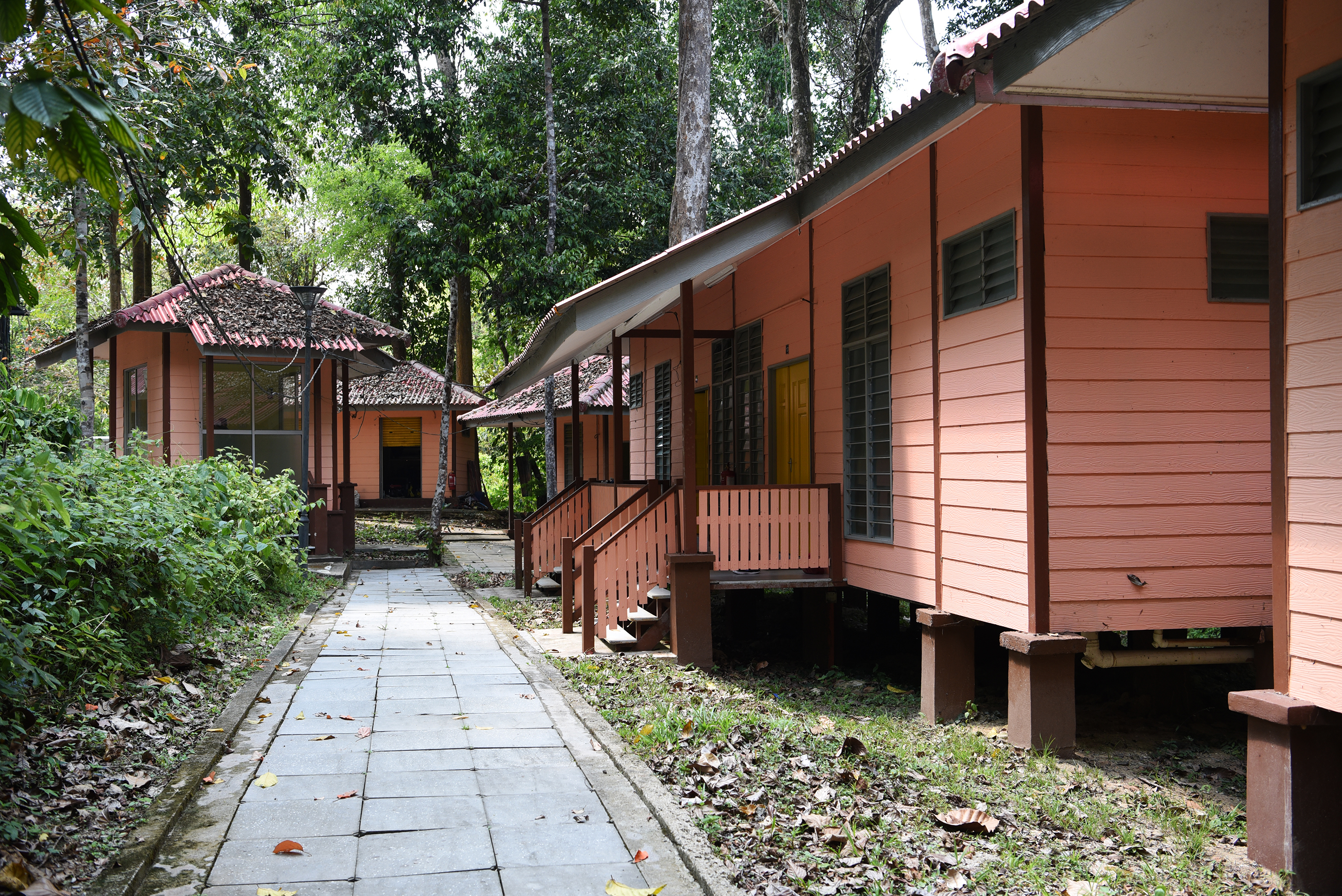 There is no phone signal at the forest reserve, so phone junkies may find life unbearable. Also, there is no electricity supply to Earth Lodge, which was built by the Kedah government in 2011. It consists of five cabins of two rooms each and three dormitories with six beds each.
After a satisfying dinner prepared by a few villagers hired by Hymeir, there was a sharing session by WWP president Prof Chan Ngai Weng and Prof Ahimsa Campos-Arceiz. The former spoke on the importance of the Ulu Muda Forest Reserve as a catchment for Kedah, Penang and Perlis while the latter on the importance of protecting its biodiversity.
Lights and fans were run by electrical supply via a small generator for a few hours every night.
However, we did not feel hot even without the ceiling fan functioning as the temperature dropped to 20 degrees Celsius in the wee hours.
I was awakened by a cacophony of animal noises early in the morning, with gibbons making the loudest noise.
The forest reserve has 117 recorded mammals and over 300 species of birds. They include the endangered Asian elephants, leopards, tapirs, sun bears and plain-pouched hornbills.
Taking a bath can be a challenge to those accustomed to using hot water because at Earth Lodge, the water is cold as it is drawn from the river.
On the second day, our first outing was a visit to a hot spring salt lick. We took a boat ride down the river again before trekking some distance in the forest to the salt lick where animals come to lick essential mineral nutrients.
Sadly, there were 4WD tyre marks on the sand. No one knows whether the driver was there for fun or other motive. The intruder or intruders, using old logging roads to reach the salt lick, could be even poachers going after wildlife or forest products.
The salt lick attracted quite a lot of small bees and dragonflies. Elephants had obviously visited the area from the relatively fresh dung found.
Or Oi Ching, 34, who is doing a research on assessing the Asian elephant population in Peninsular Malaysia for her doctorate, immediately got to action. Armed with gloves, tape and other devices, she measured the size of the dung and collected some samples to examine their DNA.
"It's part of the project under MEME. We also want to know about the elephants' distribution and habitat use. We also want to know how effective is our conservation work to save the species," said Or, who had done studies on squirrels for her Masters.
Campos-Arceiz, an elephant expert of MEME, believes there are 1,500 elephants in Peninsular Malaysia and 2,000 in Sabah. At Earth Lodge, the Spaniard, who has been involved with megafauna for the past 16 years, enlightened us on the protection of elephants and their habitats.
From the salt lick, a 30-minute hike took us close to a tualang tree (Koompassa excelsa), one of the tallest trees in the world. It can grow more than 80m tall.
During the hike, we had the good fortune of seeing a red giant flying squirrel gliding from one tree to another.
In the evening, we were out again, this time for a river walk at Sungai Labua.
Time flew and after another sharing session by Prof Ahimsa the following morning, it was time to pack up and leave for the Muda Lake jetty.
Unknowingly, I was bleeding from a leech bite on my left foot. But the adventure was worth it. The warmth of Pak Din (Zainuddin Abbas) and his fellow boatmen who shared their stories and acted as our guides made it all the sweeter.