Story by K.H. Ong
Pix by Ahmad Adil Muhamad
LIFE can be tough for any teenager for suddenly losing an arm. This was what happened to Mokti Mahmud when he was 16 years old.
But today, the 44-year-old showed that with the right mental attitude, he could overcome the odds.
He not only can repair houses but also handle a sampan (wooden boat). He is plying his trade at the Muda Lake jetty, fetching passengers to the Ulu Muda Forest Reserve and back whenever he is not engaged in any house construction works or rubber tapping.
Mokti is also appreciative of the guidance given by Pak Din (Zainuddin Abbas) and other fellow boatmen.
Working for a relative in Rawang in 1992, Mokti's left arm was caught in a dough-kneading machine that made noodles for laksa. "
"I was still conscious until I reached the hospital and I knew that I would lose my arm," Mokti recalled of the incident.
"To compound matters, I also had to undergo a kidney operation a week later. I was hospitalised for three weeks."
Being a normal person before, Mokti felt strange having only an arm.
The Social Welfare Department assisted him by sending him for a two-year training course in radio and TV maintenance.
Mokti, who hailed from Alor Setar, decided to return to Belantik in Tasik Gubir, Kedah, in 1993.
"I was disheartened initially. I was embarrassed when kids from the kampung stared at me. But I told myself there are many others who are far worse. I began to think that if others can do it, I too can do it.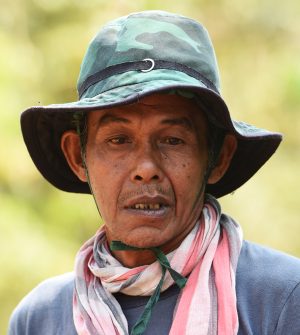 "I followed my friends and helped him in building and repairing houses. After getting some experience, I decided to do it on my own. Of course, I can't do everything myself and I get assistants to help.
"Very importantly is never to give up hope. Never to think like I am an OKU (a physically challenged person). Never to give up trying."
Mokti, who studied at Sekolah Menengah Jabi in Alor Setar, had wanted to become a soldier. While that childhood dream was shattered after the accident, Mokti soldiered on.
Today, he is a shining example of living life to the fullest.