A TOTAL of RM41,900 was given out to three suraus in Bukit Mertajam parliamentary constituency on May 23.
The allocation, which came from Bukit Mertajam MP Steven Sim, was timely in view of the upcoming Hari Raya Aidilfitri next month.
The representatives from three suraus were present to receive the respective mock cheques from Sim.
Out of the total amount, RM8,000 was given to Surau Berangan 9, RM18,000 to Surau Bukit Kecil and RM15,900 to Surau An Nur Machang Bubuk.
Sim, meanwhile, in his speech expressed his gratitude to the civil servants for their roles towards development of the country.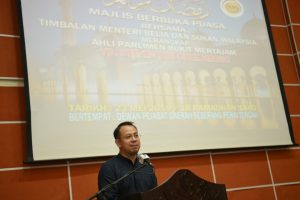 "They remain as our fortress," said the Deputy Youth and Sports Minister during an Iftar programme held at Land and District Office in Jalan Betik in Bukit Mertajam.
During the buka puasa event, those present were also treated with sumptuous meal.
Story by Edmund Lee
Pix by Ahmad Adil Muhammad