SOME 400 carrom players from all over the country participated in the 'Jom Main Carrom D' Penang 2022: Piala Ahli Parlimen Batu Kawan & ADUN Bukit Tambun' at the Dewan MPKK Bandar Cassia recently.
The two-day event was organised by Bandar Cassia Village Community Management Council (MPKK) and Seberang Perai City Council (MBSP) councillors with the support of Kelab Carrom Tok Panjang.
Bukit Tambun assemblyman Goh Choon Aik, who officiated the event on July 31, hoped that younger generation would continue playing carrom.
"To play carrom, you need to be mentally strong, patient, skilful and also possess a good strategy.
"This (playing carrom) should continue and must be passed down to the younger generation," Goh said during his speech at the competition.
A total of 150 players took part in the singles and 130 players in the doubles.
Kelab Carrom Tok Panjang secretary Khairul Ishak, who was the organising chairman, said players from states such as Kedah, Perlis, Perak, Negri Sembilan, Selangor, Kuala Lumpur, Johor, Pahang, and host Penang took part in the competition.
"We received good support from Penangites for both singles (100) and doubles (80).
"We also can see youngsters showing great interest in carrom," Khairul added.
The singles event was won by Jepp from Subang Jaya City Council (MBSJ), who received a cash prize of RM2,000, a trophy and a souvenir.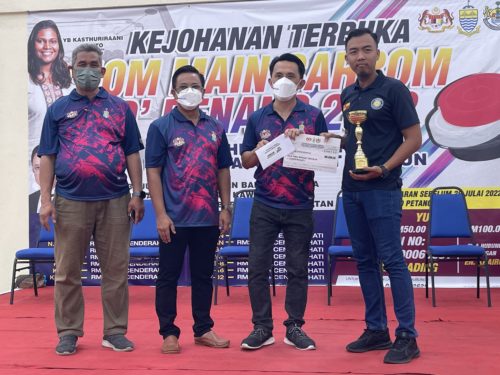 The second spot went to Abang Poi from Ipoh City Council (MBI), who received RM1,000 and a souvenir.
Akun from Kelab Carrom Tok Panjang came third and received RM500 and a souvenir.
The fourth place went to Amin Jarum Mas, who bagged RM400 and a souvenir.
In the doubles category, Faris and Muaz from Perbadanan Kemajuan Negeri Kelantan (PKINK) emerged as champions. The duo received RM4,000, a trophy and souvenirs.
Second place went to Idan Kada and Faizla from Kelantan, who received RM2,000 and souvenirs.
Another team from Kelantan, Yus and Zema, clinched the third spot and won RM1,000 and souvenirs.
The pair of Remy and Zul came fourth to win RM800 and souvenirs.
Special awards, such as 'Legendary Player', 'Female Player', 'Sensational Player', 'Potential Player', 'Best Player', 'Promising Player' were also presented during the competition.
Story & Pix Tanushalini Moroter