THE reimplementation of the movement control order (MCO) may have dampened the spirit of the devotees celebrating Ponggal festival in Penang today, but they generally understand the importance of the MCO to curb the spread of Covid-19.
Ponggal falls on the 10th month of the Tamil calendar called Thai and is a major celebration, especially for the farming community, to give thanks for a good harvest.
On this day, the Tamil community will prepare ponggal (sweet rice) and offer thanksgiving prayers to Surya Bhagavan (the Sun God), the earth and the cow.
Penang is being placed under MCO for two weeks, from Jan 13 to Jan 26, along with states like Selangor, Melaka, Johor, Sabah and the Federal Territories of Kuala Lumpur, Putrajaya and Labuan.
For Thirumoorthi Rao, 51, this year's Ponggal festival is celebrated on a smaller scale only at his house.
"In previous years, we usually had a large gathering at our house with other family members from Kedah.
"But for this year, I only celebrate it with my wife and my three children.
"After all, we have to accept the fact that we can only celebrate it on a small scale due to the current Covid-19 situation.
"Thus, abiding by the standard operating procedures (SOPs) is a must for us while celebrating the festival," he told Buletin Mutiara at his house today.
For R. Muniswaran, 40, he too understands the grave health situation the country is facing that necessitates the return of MCO.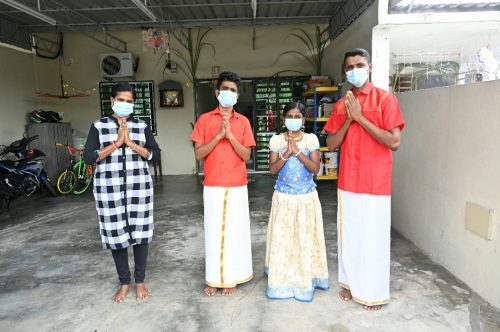 He said among the first things he and his family did in celebrating past Ponggal festivals was to head to the temple early in the morning to pray.
They then returned home to celebrate the festival with the family.
"Every year, except for this year, the residents' committee in the place I am living would hold a grand celebration at the multi-purpose hall here to celebrate the festival.
"It was a joyous and unforgettable moment for us. Other races also joined in the celebration.
"We pray that things will get back to normal for the celebration next year," said Muniswaran, who lives at Taman Supreme in Perai.
Meanwhile, Penang Hindu Endowment Board (PHEB) executive director Datuk M. Ramachandran said the Ponggal festival for this year is still conducted at every temple in the state but on a very small scale.
"However, it is limited to the temple committees only and not open for public.
"And of course, we are doing it by adhering to the strict SOPs.
"Hopefully, everything will be back to normal once the vaccines arrive so that we can have a grand celebration as we did before.
"But until then, everyone needs to play their part by following the SOPs to flatten the curve of the virus," he added.
Story by Riadz Akmal
Pix by Ahmad Adil Muhamad