WORKSHOPS are now being conducted by 'champion officers' to draw up feasible programmes and projects that are in line with the 16 strategic initiatives of the Penang2030 vision.
Chief Minister Chow Kon Yeow said 16 'champion officers' had been appointed; one heading each strategic initiative.
"Each 'champion officer' will hold a workshop for state executive council member(s), stakeholders, government and non-government agencies and professional bodies to give input on projects and programmes that are feasible, and in line with the strategic initiatives of the Penang2030.
"The proposed programmes or projects must revolve around the Penang2030 initiatives.
"The workshops will be held over these few months before we move on to the next stage which is the schedule of implementation.
"The state will then plan and adopt the proposed projects over a few years," he told a press conference after attending a forum on Penang2030 at the Advance Tertiary College in Jalan Zainul Abidin today.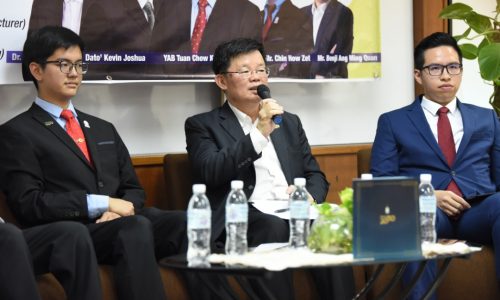 Chow said the workshops to be conducted by the 'champion officers', which also include stakeholders from the private sector, provides a clearer picture on what Penang2030 is.
"It is not just merely a vision. We have a vision, we plan and we adopt," he said.
Earlier, Chow said the Penang2030 vision is a vision statement of Penang.
"A vision statement is needed so that everyone can be on the same page with regard to the future development of Penang.
"The Penang2030 vision is not only about projects. It is also to strike a balance between development and environmental sustainability," he said.
He also welcomed community participation.
"I want the participation from the people. The government is happy to collaborate and together we make Penang better," Chow said.
The forum was moderated by ATC student Chin How Zet.
The renowned speakers who took part include lawyer Datuk Kevin Joshua, Pertubuhan Sihat Selalu chairman Dr Chong Ren Jye and DAPSY Penang treasurer Benji Ang.
They discussed matters concerning the Penang Transport Master Plan (PTMP), youth, health, and the digital era.
ATC chief executive officer Linda Christabel Felix said the Chief Minister's fervent hope for Penang2030 was so uplifting and motivating.
"He is advocating and championing for Penang to be people-centric rather than state-centric," she said.
For more details about the Penang2030 vision, visit https://www.penang2030.com/en/
Story by Christopher Tan
Pix by Darwina Mohd Daud
Video by Alissala Thian