TAGS Chiropractic and Rehabilitation Penang has officially relocated to the Seri Delima neighbourhood and is committed to serving the community.
Its chief executive officer Dr Savitha Dharan said TAGS Chiropractic and Rehabilitation by Tonik Asia Group (TAGS), announced the move as the organisation celebrates its 26th anniversary this year.
Founded in 1997 as the pioneer in offering chiropractic services in Malaysia, TAGS has expanded its reach with centers in various locations, including Kuala Lumpur, Selangor, Ipoh, Johor Baru, Melaka, Seremban, Kuching, and Penang. Over the years, TAGS has provided services to over half a million Malaysians.
"We opened our centre in Penang in 2011, and this relocation from our centre in Bayan Lepas to Seri Delima symbolises our commitment to inclusivity and accessibility.
"In conjunction with our 26th anniversary, we have launched the 'Embracing Life After Arthritis' campaign to raise awareness of the condition," said Savitha during the opening ceremony of the relocated centre yesterday.
Savitha also hoped that the campaign would complement the state government's active aging initiative.
"Penang holds a special place for us in whatever we do.
"With the launch of the age-friendly city project between the Penang Island City Council (MBPP) and Penang Women's Development Corporation, we hope that our campaign would contribute to the state's agenda (active-aging).
"We also would like to thank the state government for giving us the opportunity to serve the community here and look forward to TAGS continued role in its healthcare system," she added.
Meanwhile, State Youth, Sports and Health Committee chairman Daniel Gooi hoped that the TAGS Chiropractic and Rehabilitation Penang could also extend their services to the mainland.
"We look forward to the success of TAGS Chiropractic and Rehabilitation Penang and for its good services to the community in the George Town.
"In Penang, we are heading towards becoming an aging city, with an estimated 26.2% of its population reaching the age of 60 and above by the year 2040.
"The state government together with the local government are moving towards the right track with regard to the initiatives on active-aging lifestyle," Gooi said.
Also present was MBPP mayor Datuk A. Rajendran.
The TAGS Chiropractic and Rehabilitation Penang, which is located at 4F, Jalan Masjid Negeri, Greenlane, 11600 George Town, is open from Monday to Saturday from 9am to 7pm.
For further inquiries, please visit www.tags.my or contact 04-642 3599 or 012-771 3599.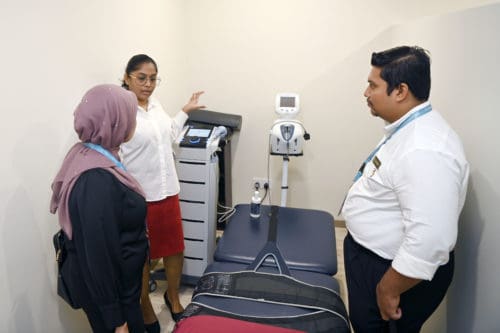 Story by Tanushalini Moroter
Pix by Siew Chia En