PENANGITES as well as local and foreign tourists can look forward to knowing more about the footprints left by the French in the state through the French Heritage Trail initiative.
This comes after the Penang government, together with The Embassy of France in Malaysia and George Town Conservation and Development Company (GTCDC), has launched the French Heritage Trail to guide visitors in their discovery of the many sites of French memory in Penang.
State Tourism Development, Arts, Culture and Heritage Committee chairman Yeoh Soon Hin said the exciting new heritage trail would allow visitors a dive into the individual stories of French people, who contributed to the collective history of the state since the end of the 18th century.
"Through this, the French Heritage Trail aims to offer the people a concrete approach to the history of the city and its expatriate communities over more than two centuries.
"It is also a contribution to developing more sustainable tourism activities, encouraging visitors to slow down the pace of their travel and digging deeper into the history and culture of the place.
"The French Heritage Trail in Penang comes in the form of maps and explanations available to all for free download.
"Visitors can plan their visits along the trail in different areas of the city, particularly George Town, Pulau Tikus and Seberang Perai. They are encouraged to walk, use public transport and discover or re-discover the city with a fresh look!
"We are committed to continue building on strategic partnerships, such as the one we enjoy with France that will demonstrate an alignment between conservation and development.
"We hope to continue investing in making Penang a vibrant and rich city attractive to artists and culture practitioners. The trail would not have been possible without the support of our project partners – Chief Minister Incorporated (CMI), Alliance Francaise de Penang, Penang Heritage Trust (PHT) and Think City," he told a press conference at the UAB Building in China Street Ghaut.
Yeoh added that the French people had arrived early in the state and actively participated in the development of the city and in the country, adding that there were Catholic missionaries, who built churches and schools as well.
Among the famous establishments are Church of Assumption, St Xavier's Institution, St George Balik Pulau, Convent Light Street, Convent Pulau Tikus, Convent Green Lane, Convent Butterworth and Convent Bukit Mertajam.
"There are many other French stories in Penang, including the sister-cities twinning established in 2018 between Penang and French city of Arles, both listed as World Heritage Sites by UNESCO," he said.
For more information, log on to my.ambafrance.org/trail (English), my ambafrance.org/trailfr (French) and https://petach.gov.my/news/ (PETACH).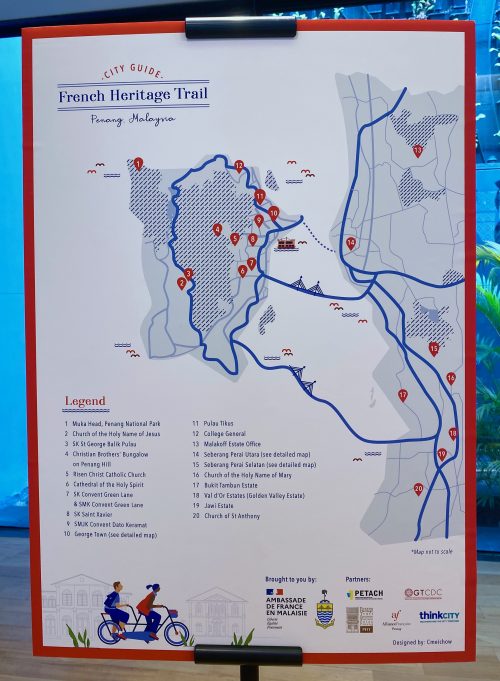 Story by Edmund Lee
Pix by Alissala Thian