THE Dragon Boat Festival, or better known as 'Duan Wu Jie' (in Mandarin), is ushered in on the fifth day of the fifth month of the lunar calendar annually.
Weeks prior to the festival, the Chinese community would prepare glutinous rice dumplings, or more popularly known as 'bak chang' (meat dumpling) in Hokkien.
The festival falls on June 14 (Monday) this year.
The tradition of serving 'bak chang' during the festival is considered one of the most important events in the lunar calendar. It is to commemorate the death of Qu Yuan, a famous poet in the Chu Kingdom in China.
Even though the full movement control order (FMCO) or total lockdown is still ongoing, the community still observes its yearly tradition of having 'bak chang' .
Buletin Mutiara checked out a few outlets today to see whether there is any demand for the dumplings during this pandemic.
Feng Yi Dumplings, which was established in 1975, is one of the household names in Penang making and selling the delicious rice dumplings for the past 40 years.
Chan Lay Hwa, the person-in-charge of its main branch in Weld Quay, told Buletin Mutiara that the orders for dumplings this year have dropped significantly compared to previous years.
She said Feng Yi Dumplings received plenty of orders before the pandemic but things have changed now.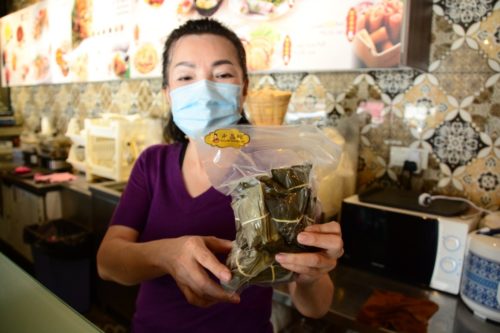 "Most of the stalls in the markets are rarely selling dumplings this year due to the pandemic and lockdown. They used to place many orders but not this round.
"In fact, it is now even worse. Due to this, we have fewer staff members for delivery service. The same goes to our other branches.
"Our business may be dropping but there are still customers who will buy some of the dumplings for prayers and to partake as a tradition," she said, adding that they would send the dumplings through courier service to the customers in other states.
Feng Yi Dumplings have branches at New World Park and Gurney Plaza.
Chan added that they also have frozen facilities whereby the dumplings could be kept for a period of time.
"Social media also plays an important part in promoting the business nowadays," she said.
For more details, kindly browse through their Facebook page at https://www.facebook.com/FengYiDumplings
Meanwhile the stall selling the famous Cintra Street 'bak chang' had already moved to a nearby coffee shop in Kampung Malabar.
Its owner Lor Kah Fai said his business, however, was still 'doing fine' this year.
"Thanks to social media, many of my customers have been able to locate my new stall.
"Our sales are 20% better than last year as many of them contacted us through my Facebook platform.
"Besides that, this 'bak chang' festival is still celebrated widely no matter under lockdown or not.
"To deliver 'bak chang' to my customers, I have a few deliverymen to deliver them to their doorsteps. For orders from other states, it is by courier service," he said.
For further details, kindly visit Lor Kah Fai's Facebook page at https://www.facebook.com/lorkahfai
In Burmah Road, the A1 'bak chang' owner Loh Weng Hong said his business has plunged by about 20 percent to 30 percent
"Most of the time, I received orders from my regular customers from all over the place. However, due to lockdown constraints, I could not accept their orders because I don't have sufficient manpower," he said.
Loh said A1 'bak chang' is known for its traditional meat dumplings.
For further detail, kindly browse the Burmah Road Jalan Tavoy Famous A1 Bak Chang Facebook page.
Story by Edmund Lee
Pix by Law Suun Ting