THE state government will ensure that the cleanliness of public places and stratified homes is given priority, says state Local Government, Housing, Town and Country Planning Committee chairman Jagdeep Singh.
"Since the implementation of the movement control order (MCO), the Penang Island City Council (MBPP) has spent a total of RM67,691 on the cleaning up work at markets and food courts.
"From the amount, RM62,360 was spent on the disinfectants while RM5,331 was for the equipment.
"Prior to the outbreak, both the local councils – Penang Island City Council (MBPP) and Seberang Perai City Council (MBSP) – were already conducting regular cleaning up work at their premises.
"But now, they have enhanced it as disinfecting work at markets is being done every one hour by the council's staff," said Jagdeep when he visited the Jelutong market today.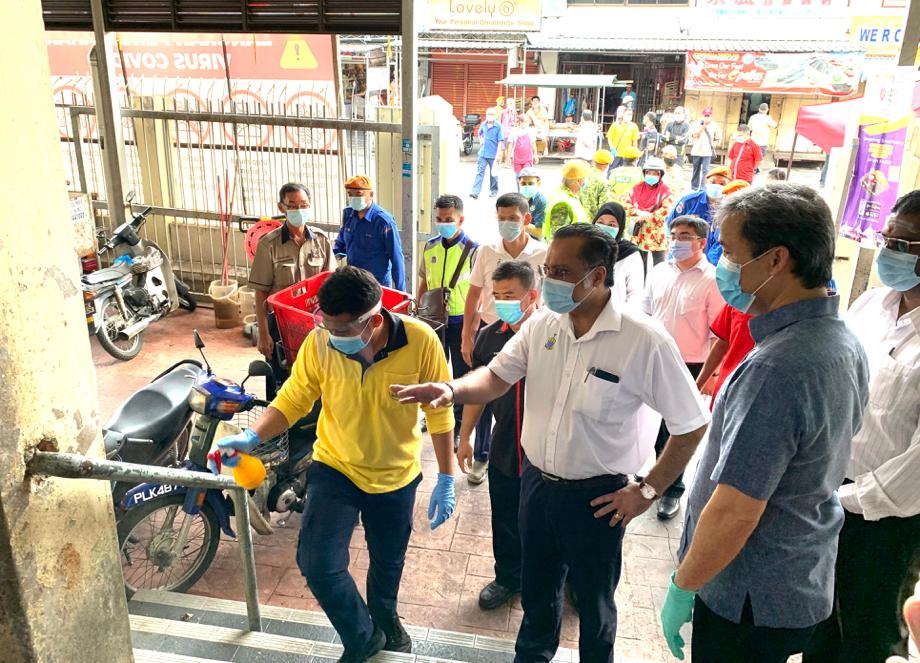 According to Jagdeep, there is a total of 26 markets and 34 hawker complexes in the island whereas there is a total of 30 markets and 45 food hawker complexes in the mainland.
"The total cost borne by MBPP does not include the state's  RM1.945 million allocation to both the local councils under the Covid-19 economic stimulus package.
"MBPP had received RM841,335 under this package. I would like to affirm here that there is no compromise when it comes to public health and safety,'' Jagdeep added.
Apart from that, Jagdeep said the MBPP and MBSP would ensure that cleanliness at public and private stratified homes is maintained well and in accordance to the instructions received from the Health Ministry.
"There is a total of 28 public stratified schemes in Penang with 12,487 units.
"These schemes have 120 workers who carry out cleaning up work which cost RM142,655 per month.
"Meanwhile, there is a total of 1,855 private housing schemes under MBPP and MBSP comprising 301,188 units.
"This means nearly 1.2 million of Penangites live in high-rise buildings, which is almost half of Penang's population.
"Thus, all the joint management bodies  (JMB) and management corporation (MC) must ensure that the cleanliness level is enhanced.
"I have also instructed both the local councils to follow up with JMB and MC on this matter,'' Jagdeep said.
MBPP mayor Datuk Yew Tung Seang, who was also present, said every day scrubber machine would be used to clean thoroughly the markets as well as the hawker complexes after the business hour.
"Our council workers, will be carrying out the disinfectant work on frequently touched surfaces, such as the handrail and door knob at our premises,'' Yew said.
Story by Tanushalini Moroter
Pix by Law Suun Ting