AFTER three and a half years, the Esplanade seawall upgrading, and restoration project has been completed.
Chief Minister Chow Kon Yeow said the RM12.9 million project was fully funded by the Penang Island City Council (MBPP) and supported by the George Town Conservation and Development Corporation (GTCDC).
"GTCDC is a partnership between the Penang government through Chief Minister Incorporated (CMI) and Think City Sdn Bhd.
"The seawall upgrading project involves a stretch of 570 metres that includes a pedestrian promenade from Medan Renong food court to the Royal Malaysian Naval Base.
"The project is also one of the 14 projects under the RM140 million North Seafront Masterplan that starts from Dewan Sri Pinang to Fort Cornwallis and the entrance to Swettenham Pier," said Chow during the launching ceremony today.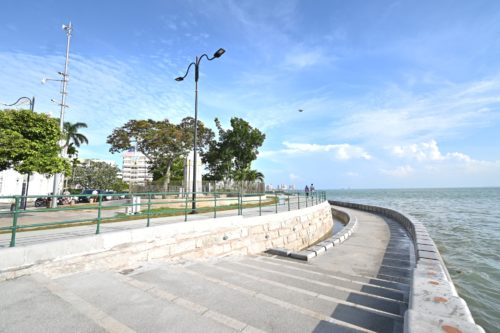 Also present were state Local Government, Housing, Town and Country Planning Committee chairman Jagdeep Singh Deo and MBPP mayor Datuk Yew Tung Seang.
Chow said the completion of the seawall upgrading project also shows the Penang government's continuous commitment to providing the best infrastructure and public facilities to all Penangites.
"Even before the official launching today, this project has already attracted a lot of attention from the public.
"We can see many people coming here to take a walk and at the same time to enjoy the breeze and scenery.
"When I visited Medan Renong food court yesterday (May 12) and spoke with some of the patrons and traders, they were all happy with this project as it could attract a lot of people to visit the Esplanade.
"I hope that the people will take good care of this facility by becoming responsible individuals and not litter," he said.
Chow also announced an allocation of RM1.4 million from the state government to implement the 'Linear Garden' project.
"The green project will be carried out by MBPP this year as an addition to the new seawall," he added.
When asked about the update of the North Seafront Masterplan, Chow said it is still ongoing.
"Since the North Seafront Masterplan initiative started in 2016, we have managed to complete 10 out of 14 projects under the master plan.
"Among the projects that have been completed are the restoration of Koh Seang Tatt Fountain Garden, improvements to Lebuh Light streetscape, upgrading of Esplanade field subsoil system and numerous planning documents produced to assist with the physical implementation," he added.
Story by Riadz Akmal
Pix by Ahmad Adil Muhamad
Video by Darwina Mohd Daud