ICONIC Worldwide Berhad has marked a new milestone in its corporate history with the grand opening of its RM200 million manufacturing facility for gloves and face masks in the Batu Kawan Industrial Park (BKIP).
The new facility is called Iconic Medicare Sdn Bhd.
Chief Minister Chow Kon Yeow, who officiated the groundbreaking ceremony on Dec 12, 2020, congratulated Iconic on their new factory, which is built on a 5.5-acre land in the BKIP.
It is expected to yield a minimum production capacity of 3.3 billion pieces of gloves and 220 million pieces of disposable face masks per annum.
"I was told that the factory currently houses six double former glove dipping lines which have started operation, and by March this year, a total of 12 of those and 20 medical face mask production lines will be installed and commissioned.
"It is also worth noting that this new factory is 80 per cent automated, thereby, minimising the operational costs for long-term business sustainability.
"I always believe that embracing technology and automation are keys to remain competitive and operationally efficient, regardless of which industry and value chain you are in," Chow said during the official grand opening of Iconic Medicare Sdn Bhd in the Batu Kawan Industrial Park today.
Meanwhile, Iconic Worldwide Berhad executive director James Tan Cho Chia, during his speech, said that on Dec 14 last year, the factory had successfully obtained the 510(K) premarket notification approval from the United States Food and Drug Administration (FDA).
A 510(K) is a premarket submission made to FDA to demonstrate that the device to be marketed is as safe and effective.
"In the third and fourth quarters of the current financial year, Iconic will ship out approximately 500 million pieces of nitrile gloves to USA, Europe, Africa, Middle East and Southeast Asia.
"The sales will be partially factored into the company's financial year 2022 accounts, and fully realised in the financial year 2023," James said.
In a related development, part of Iconic's corporate social responsibility (CSR), James said the company had previously donated 100,000 pieces of face masks and 100,000 of medical grade gloves to the Penang government, to be distributed to families and individuals affected due the recent flood incidents in Malaysia.
As the state officially enters its 50 years of digitalisation this year, Chow commended Penang for being one of the highest concentrations of MedTech companies in Malaysia and Southeast Asia, with over 50 medical device companies in the state.
"This demonstrates the ability of the state's industrial ecosystem to meet the stringent quality standards required of the MedTech supply chain.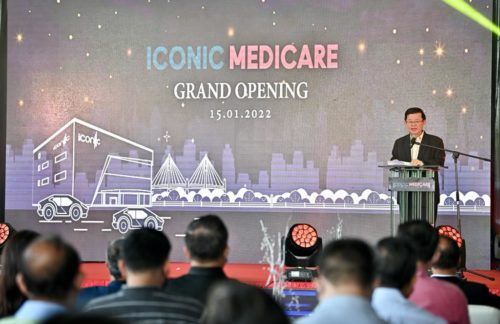 "In the case of Iconic, I was informed that BKIP was chosen for this new factory due to the readiness of infrastructure, such as roads and gas pipelines.
"Lastly, I would like to wish Iconic and its management, led by a line-up of highly talented individuals, all the best in achieving its aim to become the world's fifth largest glove maker," Chow added.
Among those present during the ceremony were state Youth and Sports Committee chairman Soon Lip Chee, Bukit Tambun assemblyman Goh Choon Aik, Jawi assemblyman Jason H'ng Mooi Lye, InvestPenang chief executive officer Datuk Loo Lee Lian and Iconic Worldwide Berhad managing director Datuk Tan Kean Tet.
Story by Kevin Vimal
Pix by Muhamad Amir Irsyad Omar
Video by Noor Siti Nabilah Noorazis