ICONIC Worldwide Berhad officially held its groundbreaking ceremony for its wholly-owned subsidiary, Iconic Medicare Sdn Bhd's new manufacturing facility for gloves and face masks here in Batu Kawan today.
Chief Minister Chow Kon Yeow, who officiated the ceremony, said although the company originally specialised in hotel management and the hospitality industry, it is equally important for it to be versatile and venture into different business operations during these trying times.
"It is undeniable that the personal protective equipment (PPE) market is gaining momentum as a result of the ongoing Covid-19 pandemic.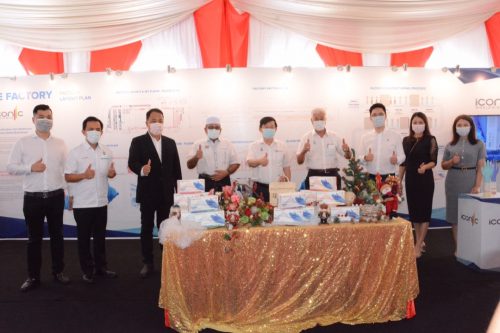 "The demand for gloves and face masks may persist over the long term as the pandemic has spawned public awareness on personal hygiene protection.
"Hence, I congratulate the company and all those involved in making this great plan a reality today," Chow said during the groundbreaking ceremony in Batu Kawan today.
Located on a parcel of land measuring approximately 5.5 acres in Batu Kawan Industrial Park, the facility would be installing and commissioning glove and disposable face mask production lines, which are expected to yield a minimum production capacity of 3.3 billion pieces of gloves and 220 million pieces of face masks per annum.
Iconic Worldwide Berhad managing director Datuk Tan Kean Tet said a total of 22 production lines comprising 12 gloves dipping lines and 10 mask production lines would be installed and commissioned over the course of 12 months.
"A total of RM155 million would be spent on the new PPE facility, which covers the cost of the land, construction of the facility, installation of production lines and other equipment.
"We intend to manufacture and trade latex and nitrile gloves for household, industrial and medical use, as well as two main types of disposable face masks.
"They are namely 3-ply and N95 face masks.
"Iconic Worldwide sees a need to adapt to the new normal by diversifying its existing core business into PPE manufacturing, and that is why all of you are here today, which is to witness this groundbreaking ceremony," he said during his speech.
The new facility is expected to be completed in July next year and to be operational in September.
Most of the orders that the company has secured are from China, Europe and the United States of America.
Also present at the ceremony were state Environment and Welfare Committee chairman Phee Boon Poh, Batu Kawan MP P. Kasthuriraani, Bukit Tambun assemblyman Goh Choon Aik, InvestPenang chief executive office Datuk Loo Lee Lian and Seberang Perai City Council (MBSP) mayor Datuk Rozali Mohamud.
Story by Kevin Vimal
Pix by Law Suun Ting
Video by Chan Kok Kuan