THE Penang government, through Kepala Batas parliamentary special coordinating office, has distributed a total of 120,000 face masks to the residents in the constituency as well as Tasek Gelugor from March until November.
Lay Hock Peng, who is the special coordinating officer to Chief Minister Chow Kon Yeow, said the face mask distribution focused on six constituencies under Kepala Batas and Tasek Gelugor.
"They are Bertam, Penaga, Pinang Tunggal (Kepala Batas) and Permatang Berangan, Sungai Dua and Telok Ayer Tawar (Tasek Gelugor).
"The face masks were distributed at various places such as marketplaces, schools, villages, places of worship and many others.
"And we will continue to do so to ensure the people have an adequate supply of face masks to minimise their risk from contracting Covid-19 virus.
"Our office at Jalan Satu in Kepala Batas is always open to the public for them to get face masks if they are short of the items," Lay told Buletin Mutiara after distributing 2,000 face masks to the residents in Bertam constituency today.
Lay and his entourage also went to the Kampung Kovil and Jalan Sekolah to distribute face masks.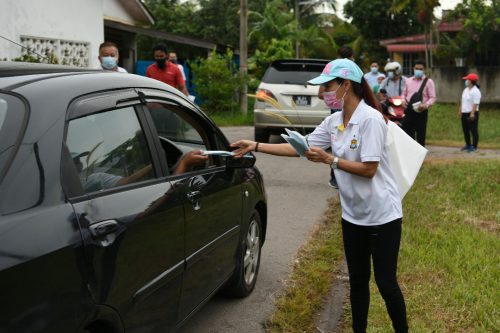 "We gave 1,000 face masks to the villagers in Kampung Kovil and another 1,000 face masks to the people along Jalan Sekolah.
"Each of them gets three pieces of face mask. And we will continue to do so in other areas as well," he added.
Story by Riadz Akmal
Pix by Ahmad Adil Muhamad