MALAYSIANS Soh Wai Ching and Michele Tan Bee Kiang proved that locals could be formidable in vertical run when they won the Men's Open and Women's Open respectively in the Penang Top International Tower Run 2019.
Some 1,000 athletes took part in the tower run today, beginning from Komtar Walk till the finish at The Top, which is located at the 68th floor of Komtar – the uppermost floor of Penang's iconic landmark.
Soh clocked an incredible time of 7 minutes 39 seconds while Tan was timed at 10 minutes and 58 seconds.
They won the top prize money of RM1,000 each.
Lel Kipchirchir finished second behind Soh with a time of 8:17.0 while Mohd Saddam Mohd came in third in 8:30.0.
In the Women's Open, Stephanie Chong was second placed behind Tan with a time of 12:15.0 while Lumindas Liezel Merasol took third place in 12:28.0.
The top five finishers were awarded cash prizes of RM1,000, RM800, RM500, RM300 and RM200 respectively.
Air Itam assemblyman Joseph Ng Soon Siang, who stood in for state Youth and Sports Committee chairman Soon Lip Chee, was delighted to see two Malaysians clinching the Men's Open and Women's Open titles.
" I am glad to see two Malaysians coming out first in their respective Open category," said Ng.
"This is Penang's first international competitive tower running competition which is sanctioned by the Tower Running World Association.
"Through this significant tower run, we hope to inculcate a healthy living habit among the participants. The organisers have done a remarkable job."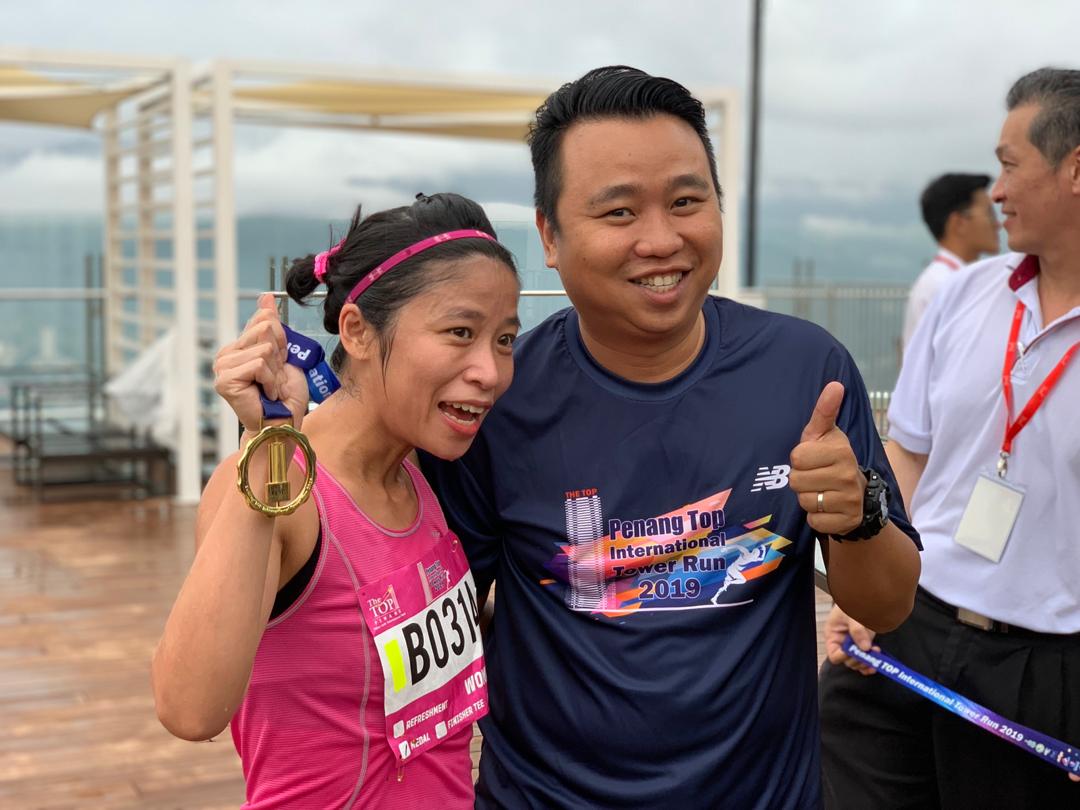 This year's participants came from Brunei, Singapore, Hong Kong, Indonesia, Thailand, China, Kenya, India and Australia.
The event attracted more runners than last year after receiving sanction from the Tower Running World Association and endorsement by Tower Running Trial 60.
With the international recognitions, serious runners to Penang Top International Tower Run 2019 were rewarded with 60 points in timing chip of which could be accumulated to determine the runners' global ranking in future.
Also present at the run were Komtar assemblyman Teh Lai Heng, The Top Penang general manager Joel Law, state Youth and Sports assistant officer R. Ravichandran, and JomRun managing director Chang Yi Hern and general manager Muhammad Fuad Rosli.
Law said that after successfully organising the signature sporting event, which was established by the state government since 2009, they have looked forward to organising another tower run in November this year.
"For the upcoming run, we are giving it a fun twist where we are going to open the event for family registrations and youth."
He also encouraged participants to explore what The Top has to offer – The Rainbow Skywalk, the Jurassic Research Centre and Penang Boutique Aquarium as well as to try out authentic Japanese food, Malay and Chinese cuisines, and western and fine dining.
RESULTS:
Men Veteran: Charles Supapodok (10.03), 2. Mohamed Hamizi Hussein (10:11), 3. Ho Yuen Loong (10.44).
Women Veteran: 1. Rebecca Sia (15:12), 2. Choong Meow Lin (15:19), 3. Lee Huey Chen (15:39).
Men Open: 1. Soh Wai Ching (7:39), 2. Lel Kipchirchir (8:17), 3. Mohd Saddam Mohd (8:32).
Women Open: 1. Michele Tan Bee King (10:58), 2. Stephanie Chong (12:15), 3. Lumindas Liezel Merasol (12:28).
Story by K.H. Ong
Pix by Shum Jian Wei