THE first night of the 'Macam Macam Macallum', a community engagement programme of the popular George Town Festival (GTF) 2019, attracted people from all walks of life despite the drizzle.
The two-night programme, from 7pm to 10pm held at Macallum neighbourhood till today, is being organised by GTF 2019 in collaboration with Pengkalan Kota service centre.
For the first time, the event under GTF offers an opportunity for local residents to present their traditional artform on the stage.
Adding colours to the community programme were special features by Euphoria Penang Modern Dance Ensemble and local band 'Culture Shot,' which kept the crowd entertained with mind-blowing performances.
Also in action was a traditional 'potehi' troupes by the Beng Geok Hong Puppet Theatre Troupe. The lead puppeteer was Ooi See Han, who stays in Macallum.
Pengkalan Kota assemblyman Daniel Gooi Zi Sen said it was a sign that the festival was stepping into a new decade of creativity.
He said such initiative allowed neighbours to know each other better on a shared space and platform, showcasing the vital role of arts in bringing people together.
"It also presents visitors the rare chance of taking a glimpse into the everyday lives of the local community.
"Once again, welcome to 'Macam Macam Macallum' and we hope it will turn out to be a memorable night for all of us," he said in his speech before the opening ceremony at Lintang Macallum 2 on July 24.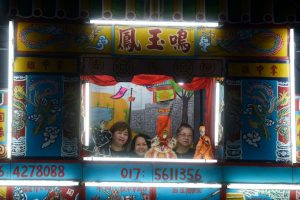 A similar celebration of 'Macam Macam Berapit' also took place on the mainland and attracted scores of people early this month.
The GTF 2019's closing ceremony is scheduled to take place at Beach Street on July 28.
Story by Edmund Lee
Pix by Chan Kok Kuan