THE Seberang Perai Circular Economy Agenda 2022 will be focusing on organic waste, green waste and plastic waste.
Seberang Perai City Council (MBSP) mayor Datuk Rozali Mohamud said circular economy is important because it is the best approach to eliminating waste and the continual use of resources compared to the conventional methods of take, make and dispose.
"This means a product could be maintained and recycled to minimise waste.
"Thus, we can take care of the environment effectively and use our resources more efficiently," Rozali said in his speech during a virtual corporate meeting at the MBSP headquarters building in Bandar Perda, Bukit Mertajam today.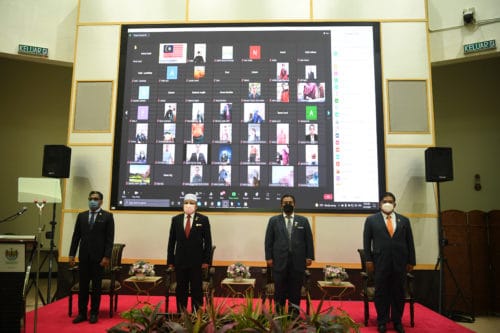 According to Rozali, the short-term agenda also is aimed at strengthening efforts to make the mainland a low-carbon city by 2022.
"This will also give an opportunity to the Seberang Perai residents to make better use of finite resources.
"And at the same time, we can also reduce the harmful substances or gas emissions from going into the air.
"With this, we can protect human health and biodiversity, boost economies and create more and better jobs for the people," he added.
On a separate matter, Rozali said that MBSP is very committed to enhancing integrity, combating corruption, abuse of power, malpractice and breach of trust among its staff.
"With this, 45 programmes and 65 activities will be implemented next year through MBSP anti-corruption plan with the aim of making the city council free from any corruption," added Rozali.
Story by Riadz Akmal
Pix courtesy of Seberang Perai City Council