THE Covid-19 vaccination centre (PPV) at the Sungai Nibong pesta site has provided 1,700 doses of Covid-19 vaccines to the recipients to date, after it started operating three days ago.
Chief Minister Chow Kon Yeow, who visited the PPV with Penang Tourism and Creative Economy Committee chairman Yeoh Soon Hin and northeast district health officer Datin Dr Azizah Ab. Manan today, urged more people to register for the National Covid-19 Immunisation Programme (NIP).
"It is important for us to be vaccinated as it will help us to stem the Covid-19 outbreak.
"We are happy that the PPVs in Penang are operating smoothly. More PPVs are scheduled to open next week. The state is also pushing for its economic frontliners to be vaccinated," he said.
Chow hoped that the Covid-19 vaccine supply to Penang would be smooth.
He said some 268,000 people in the northeast district had registered themselves for the Covid-19 vaccination programme.
It was reported that Penang has managed to achieve its target of injecting 10,000 Covid-19 vaccine doses daily.
Chow said that the state had set a new target of 20,000 jabs per day, so as to complete the NIP in Penang by the end of October this year.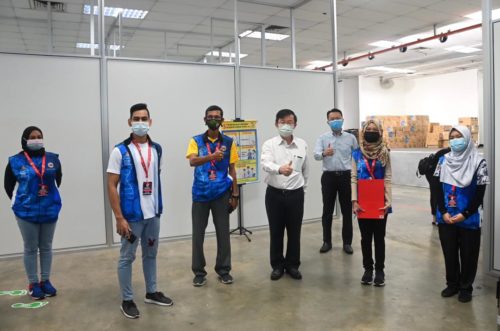 Story by Edmund Lee
Pix by Alissala Thian
Video by Darwina Mohd Daud