ONE of the most iconic cultural events in Penang, the Chingay, Lion and Dragon Dance Parade, made a grand return with thousands of people from all walks of life attending the event last night.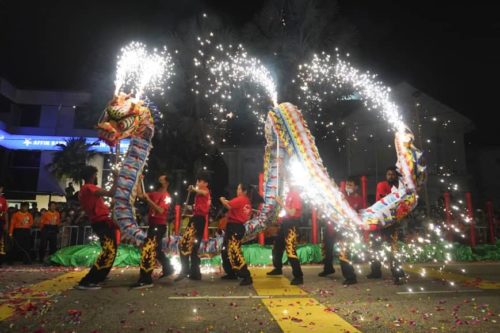 There were scores of people lining up the streets along Light Street to catch the thrilling stunts by Chingay performers.
The performers made their acts seem easy such as balancing tall flag poles with their foreheads and mouths.
The public also was in awe when the parade also featured colourful floats as well as lion and dragon dances.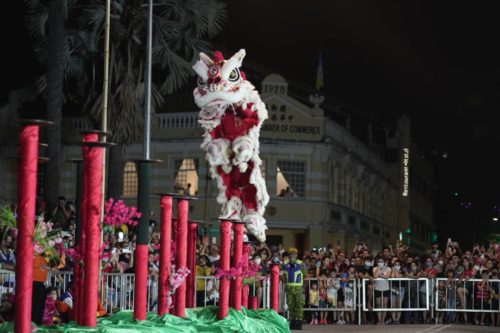 The grand parade started from Padang Brown at around 7pm, passing through several roads such as Jalan Dato Keramat, Jalan Penang, Jalan Burma, Jalan Transfer, Jalan Sri Bahari, Jalan Penang, Chulia Street and Jalan Masjid Kapitan Keling before ending at Lebuh Light near the Esplanade at about 9.15pm.
Penang Governor Tun Ahmad Fuzi Abdul Razak also graced the event at the main stage set up in front of the Penang Chinese Chamber of Commerce building.
Chief Minister Chow Kon Yeow, who was also present, praised the state Tourism and Creative Economy Committee chairman Yeoh Soon Hin and his office for successfully organising the much-awaited event.
"My heartfelt appreciation also goes to the Penang Governor Tun Ahmad Fuzi Abdul Razak for taking the time to be with us and gracing the event last night.
"Actually, the Penang Chingay, Lion and Dragon Dance Parade was supposed to be held during New Year's Eve. However, it has to be postponed at that time due to the flood situation in the country.
"Nevertheless, I am very happy tonight to see a large crowd attending this event to see the Chingay parade," Chow said in his speech during the event.
Also present were State Secretary Datuk Mohd Sayuthi Bakar, Pulau Tikus assemblyman Chris Lee Chun Kit and Penang Global Tourism (PGT) chief executive officer Ooi Chok Yan.
Chow added that the Chingay parade was unique as it showcased the identity of Penang.
"Chingay is one of the cultural heritage of the Chinese community that is very unique and has its own attraction.
"The same goes for the lion and dragon dances that have attracted the interest of other races to participate.
"There is no doubt that this event is one of the important tourism products in the state.
"And the state government hopes that this tradition will be continued in more years to come," he said.
Yeoh said the parade was synonymous with Penang.
"I also hope this Chingay celebration tonight brings health and joy to all of you and strengthen the bond with your loved ones.
"Let us continue to celebrate our traditions and culture and bring joy to everyone," he said.
The parade also ended with a firework display at 12am.
Story by Riadz Akmal
Pix by Siew Chia En
Video by Siti Nuratikah Rahmat