PANTAI Hospital Penang is expanding its facilities after providing quality healthcare to the people for over 25 years.
The hospital, which is part of IHH Healthcare Malaysia's network of 16 hospitals, broke ground today for a new medical block to enhance delivery and quality healthcare to patients.
Pantai Hospital Penang chief executive officer Pan Wen Lek said the new medical block would be built at the hospital's existing open car park area, behind its medical building.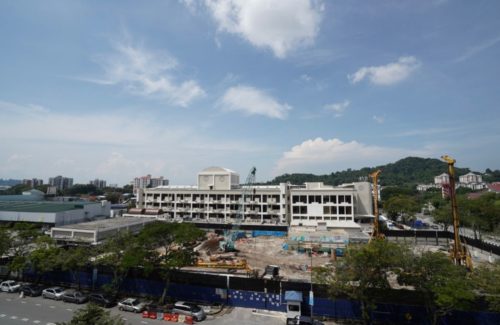 "This is Phase One of our hospital expansion.
"The seven-storey new medical block is scheduled to be completed in the fourth quarter of 2024.
"Phase Two, which is the remodelling of our existing hospital building, will take place thereafter and is scheduled to be ready by the second quarter of 2026," he said in his speech at the groundbreaking ceremony today.
According to the media release, the seven-storey new building will be equipped with 117 beds, 14 intensive care units (ICUs) / critical care units (CCUs) / high dependency units (HDUs), 36 consultation suites, five operating theatres, a cardiac catheterisation laboratory and four endoscopy rooms.
By 2026, Pantai Hospital Penang will be a 307-bedded facility with 30 ICUs/CCUs/HDUs, 89 consultation suites, 10 operating theatres, two cardiac catheterisation laboratories, five endoscopy rooms and 440 parking bays.
Pan said Pantai Hospital Penang required an expansion to continuously enhance patient care quality and cater for the increasing southwest district communities.
"Pantai Hospital Penang began operating in July 1997 with just six specialities, 30 staff and nine consultants.
"Today, Pantai Hospital Penang offers various specialist services including cardiology, neurology, orthopaedic, neurosurgery, cardiothoracic surgery, radiotherapy and oncology. The hospital also houses the only Stroke Centre in the northern region," he said.
Pan said the expansion of the hospital would create about 1,000 job opportunities for Penangites.
IHH Healthcare Malaysia chief executive officer Jean-François Naa said Pantai Hospital Penang, together with its sister hospital, Gleneagles Hospital Penang, were frontrunners in Penang's robust private healthcare infrastructure.
"Both hospitals have been working closely with the Penang government to ensure quality healthcare is extended to all.
"IHH Healthcare is a world-leading healthcare provider with a presence in 10 countries.
"In Malaysia, our network of 16 hospitals comprising Pantai Hospitals, Gleneagles Hospitals and Prince Court Medical Centre is known for its extensive clinical expertise, excellent service, quality of care and advanced medical technology," he said.
He added that Pantai Hospital Penang would bring in more healthcare professionals and other allied healthcare practitioners to build on its strengths, and create more employment and career opportunities for the community.
Jean-François said the new medical block would be built according to the Green Building Index criteria which would save energy and water, and provide a healthier indoor environment.
Chief Minister Chow Kon Yeow said part of the state's aspirations under the Penang2030 vision was to increase liveability to enhance the quality of life.
"The new development of Pantai Hospital Penang supports this Penang2030 vision pillar.
"Pantai Hospital Penang is one of the private hospitals that is fully committed to supporting the state's plans to deliver world-class healthcare.
"The new expansion will be an excellent addition to the state's already thriving healthcare travel industry," he said.
Also present at the ceremony were Bayan Baru MP Sim Tze Tzin, IHH Healthcare chairman Tan Sri Mohammed Azlan Hashim, IHH Healthcare Malaysia chief operating officer Ivan Loh, Pantai Hospital Penang person-in-charge and consultant ENT surgeon Dr Zulkefli Hussein, and Pantai Hospital Penang co-founder Datuk Dr Godfrey Geh Sim Wah.
Story by Christopher Tan
Pix by Adleena Rahayu Ahmad Radzi
Video by Darwina Mohd Daud