THE Penang Green Council (PGC) is all set to celebrate Earth Day with the community via its two main programmes, namely the 'Earth Day Celebration 2023: Invest in Our Planet' and 'Zero Waste Vlog [email protected] Ramadan'.
The first event, the 'Earth Day Celebration 2023: Invest in Our Planet,' is jointly organised by PGC and Junior Chamber International United Penang (JCIUP).
State Welfare and Environment Committee chairman Phee Boon Poh has encouraged everyone to participate in the family-friendly event that instils environmental consciousness.
"This event will be held on March 25 at Straits Quay from 4pm to 9pm.
"The programme covers the elements such as zero waste, circular economy as well as healthy lifestyle concept activities.
"For example, Zero Waste Barter Trade, recycling corner, workshops, clothes swapping, yoga and other interesting activities," Phee said in a press conference held yesterday (March 14).
Phee also said March 25 (the last Saturday in March this year) will also see the world celebrating Earth Hour, so Straits Quay will be also switching off their non-essential lights to observe the global Earth Hour movement.
"This provides a unique opportunity for the public to come together to not only celebrate the planet, but also take part in a global movement to raise awareness of climate change and the importance of sustainability.
"Join us in this meaningful double celebration which will also be attended by Chief Minister Chow Kon Yeow," he added.
The second programme, which is the Zero Waste Vlog [email protected] Ramadan, is a collaborative event between PGC, Green Educators' Workgroup (GREW), Penang Island City Council (MBPP) and Seberang Perai City Council (MBSP).
The challenge will start on March 20 and end on April 30.
GREW chairperson Khou Jerome said GREW is an organisation that works on promoting sustainability culture through education.
"We would like to celebrate the very special month of Ramadan by telling the public it is possible to practise zero waste in the Ramadan bazaar.
"Remember to follow the Facebook page GREW and PGC or scan the QR code of the poster to follow our website for details of this challenge.
"We are looking forward to seeing the creativity of how schools children and the public prove themselves to be practising zero waste through vlog.
"I believe the impact of the programme will not only be during the Ramadan bazaar, but also in their daily lives," he added.
It is learned that the Zero Waste Vlog Challenge @ Bazaar Ramadan encourages the public to reduce the use of disposables and single-use plastic items as well as to reduce the food waste in Ramadan bazaar in Penang by creatively recording and narrating their visits in a short video.
The organisers will be also visiting Ramadan bazaars at four different locations in Penang, which are Bayan Baru, Balik Pulau, Bayan Lepas and Juru to share about environmental education and the importance of waste reduction.
PGC general manager Josephine Tan thanked the partners for working together with the PGC as well as for their tremendous support.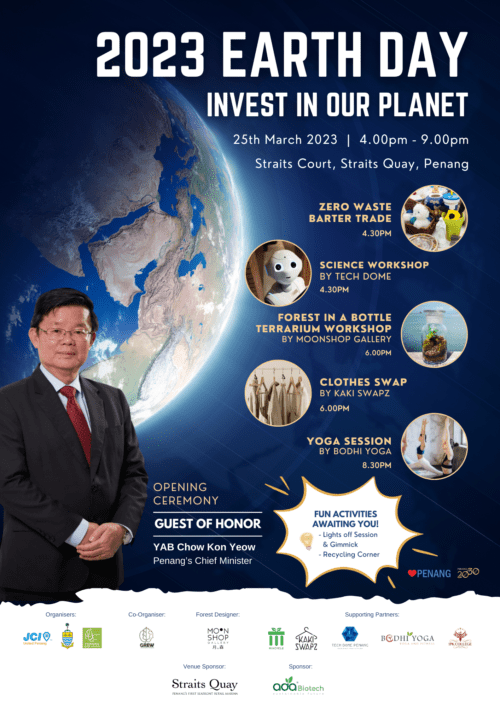 Story by Tanushalini Moroter
Pix by Alissala Thian