IT was a time when many Seberang Perai Municipal Council (MPSP) workers had already punched out last Friday (Aug 9) and were looking forward to spending time with family in view of the Hari Raya Aidiladha celebration last Sunday.
However, many of them were recalled after strong winds lashed the northern states, like Kedah, Perlis and Penang, sending many a roof flying and uprooting numerous trees.
The tail-end of the Typhoon Lekima had also caused various areas in the state of Penang in disarray as the winds reached up to 100kmph, resulting in damage to many homes.
Following the devastating storm, many MPSP workers came back to work round the clock to ensure the situation returned to normal.
When met, Nazari Rahim, 48, said he had no qualms working tirelessly despite missing the Hari Raya Aidiladha celebration on Sunday.
He said he did not spend time with his loved ones during the celebration due to the call of duty.
"Being a member of the Crisis Management Department in the Orange Squad, we are on standby mode each time any disaster takes place.
"We can't blame anyone for what had happened but to step up our efforts in clearing the mess following the storm.
"This is our sacrifice for the people on the mainland," he told Buletin Mutiara when clearing up the tree branches in Kampung Petani, Kubang Semang, on Aug 13.
His colleague Mohd Aliff Yusoh, 33, pointed out that his responsibility to the public was way beyond self-interest.
"Before I joined the team, I have already foreseen such a scenario.
"I have no regrets. My passion is to assist people in whatever circumstances that I could," said Aliff, who hails from Pengkalan Tambang, Permatang Pauh.
"We are the frontliners of MPSP, so we need to cope with any emergencies and obstacles."
Mohd Sufian Ishak, 32, concurred with his colleagues that he immediately went to the ground to assist in whatever he could when the call came in.
He said he was planning to go back to his home prior to the storm but went to the scene nevertheless to provide his assistance.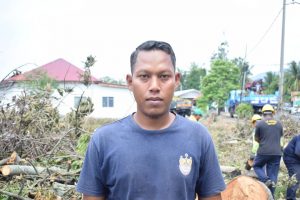 "All of us in our squad helped one another to remove the fallen trees to ensure smooth traffic flow," he added.
MPSP president Datuk Rozali Mohamud, who forewent sleep to monitor the situation at various sites, said a total of 412 trees fell onto roads and drains, obstructing the traffic and water flow following the storm.
"North Seberang Perai district was badly hit by the storm, followed by central Seberang Perai and south Seberang Perai.
"We quickly instructed 365 MPSP workers to help out the situation soon after the strong winds subsided," he said.
Rozali added the council was committed to serving the people, adding that clearing works were still ongoing.
Also present at the site to oversee the cleanup was MPSP Crisis Management Department director Ahmad Zabri Mohamed Sarajudin.
Story by Edmund Lee
Pix by Noor Siti Nabilah Noorazis & Nur Amirah Husna Roslan