THE act of balance in almost anything we do in our lives is crucial, and according to several university and college lecturers, the same practice is necessary in the area of education, especially during this trying period of Covid-19 pandemic.
In a face-to-face setting, it may be considered easier to gauge a student's attention, frustration and engagement from their body language and demeanour, but this is not always the case.
Buletin Mutiara approached several experts in the field to gain insights, mainly on the effectiveness of conducting online lessons, students' responses and challenges faced during this period.
Brian John Dorai, 29, who teaches psychology modules for the American Degree Transfer Programme at INTI International College Penang, said he enjoys conducting online classes as it allows him to work twice as hard to arouse interest among his students.
"It allows me to always think of new platforms to help the students to understand better. I find teaching online a good thing because it also allows students who were previously shy to speak up, to boldly participate in the sessions now.
"At the end of the day, I still prefer physical classes. The bonding that we forge as lecturers and students, especially in a psychology class, is different.
"But this pandemic has clearly taught us that striking a balance between physical and online classes is very important. It is always good to have alternatives in our lives," said Brian during the phone interview with Buletin Mutiara.
Brian also said while most of his students have engaged pretty well during online lessons, there are some who still require some coaching and pushing to be more involved in the sessions.
"The level of interaction during an online class definitely moves on a different scale compared to a face-to-face class, but it certainly can prove be more effective provided students are keen and show great enthusiasm," he added.
When asked about values he picked up during this period, Brian said two of the most important things he learnt are to always count our blessings and be ready to provide a helping hand when needed.
"This is because at any time, you may lose material things; you may lose money; you may lose your life. So, it is best to focus on interaction with people that matters and be blessed with what we have.
"For students, have a balance in life. Work very hard in your studies, but take some time to also build your character and leadership through other activities other than academics," he added.
Brian, a Penangite and who has been teaching for almost five years, holds a Bachelor of Psychology from HELP University in Kuala Lumpur and Masters in Counselling from Universiti Sains Malaysia in Penang.
Another lecturer, Aaron Goh, 48, said whether it is online or face-to-face classes, it all depends on the nature of the lesson itself.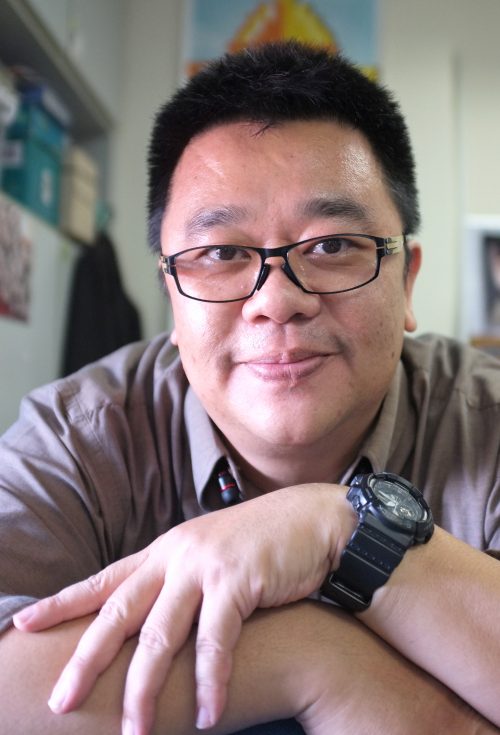 "Some lessons will require the learner to learn from doing; some may require interacting face-to-face in order to learn.
"My preference will still be both as it has to do with the learning outcome of the lesson itself," Goh said during the interview.
Goh has been in the teaching field for 20 years now.
He also added that his students have successfully shown a neutral response in terms of accepting online classes during this era of Covid-19 pandemic.
"Home is a comfortable place with plenty of distractions such as a comfortable couch or nice and warm bed with plenty of other things to do. But if the classes are conducted as interesting as possible, students will surely be engaged.
"Physical class means they are somewhat forced to stay focused.
"With that being said, there are still a good number of learners that are highly motivated to learn and being able to focus in online and physical class as well," he added.
Meanwhile for Andrew Wilfred, 35, who teaches subjects related to the mass communication and public relations courses at UOW Malaysia KDU Penang University College, said he prefers conducting physical classes.
He strongly believes that only by teaching students face-to-face can he motivate and share knowledge effectively without any obstacles.
"It was a new challenge for me, especially when scheduling the classes and online materials, but my students have slowly adapted to this method of learning," he added.
Wilfred has been in the teaching line for almost 12 year now.
For Associate Professor Dr Juliana Abdul Wahab, 50, she said she has always preferred face-to-face teaching, but when the pandemic struck us all, she was able to realise the importance of embracing digitalisation and how important it has proved to be now.
"Despite the many challenges, what keeps me going is my passion for teaching.
"Also, due to the active participation by my students via online classes, it has made me happy and given me that extra push to go the extra mile and brush aside the difficult moments," she added.
Dr Juliana, who holds a PhD in Media Studies, is one of the senior lecturers from Universiti Sains Malaysia (School of Communication) in Penang, who has also officially entered her 18th year there now.
Story by Kevin Vimal
Pix courtesy of interviewees